"Skin rejuvenation" is a very popular term for skincare products that give life to dull and dry skin. However, the common notion is that a "rejuv" can be painful, intense, and even dangerous because of the harsh chemicals that they contain, often resulting in red, sore, and peeling skin. The truth is, rejuvenating one's skin can be painless and safe. Hello Glow Advanced Rejuvenating Set is a complete blend of high-tech active ingredients that work to give your skin the glow and refreshed look, a safe and natural way.
The Hello Glow Advanced Rejuvenating Set comes with Low pH Hydrating Cleanser, Get Bright Toner, Ultralight ++ Matte Sunscreen with SF 30, and the Nourishing Night cream. Hello Glow uses professionally compounded active ingredients like AHA's, PHA's, Bakuchiol, Niacinamide, and Micro-encapsulated Retinol to effectively rejuvenate skin, balanced with Hexylresorcinol, Centella Asiatica, Ceramides, and Hyaluronic Acid to prevent irritation that aims to improve and clarify skin texture, unclog pores, and treat acne. Safe for all skin types, great for dry, normal, combination, and oily skin!
So how does one safely rejuvenate the skin? Here are some safe and painless steps to achieve that rejuvenated, youthful and glowing complexion: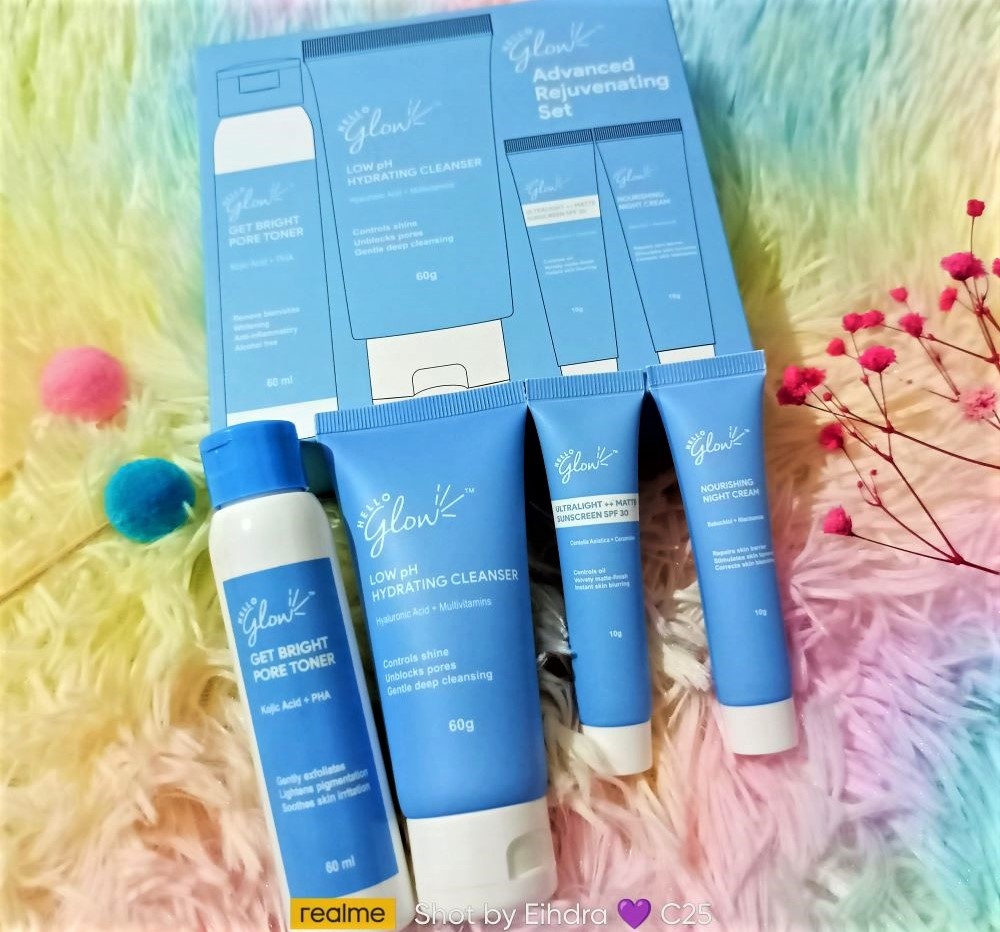 It's important to wash your face daily with a cleanser to exfoliate dirt that you may have accumulated. So, first things first, wet your face and apply the Low pH Hydrating Cleanser in slow and circular motions. Leave for two to three minutes before rinsing then pat your face dry.
Next, apply the Get Bright Toner on every corner of your face with a cotton pad to help soak up oil and remove dirt from your skin.
Third, apply the Ultralight ++ Matte Sunscreen with SF 30, at least fifteen minutes before you go outside to make sure that your skin absorbs the ingredients. This oil-free moisturizer comes in a gel form that is easily absorbed by the skin and it dries matte without any white cast or greasiness, perfectly comfortable to use under makeup.
Lastly, apply a pea-sized amount of the Nourishing Night Cream to your face up to the base of your neck. Make sure to do these daily before bedtime so you can wake up with skin that feels fresh and moisturized!
Get that healthy glowing skin with these simple and safe steps with Hello Glow Advanced Rejuvenating Set for an affordable price of PHP 360, available on Hello Glow's official store page on Lazada and Shopee!
Also available in Watsons and all other leading departments and supermarket stores nationwide. To know more about Hello Glow, like and follow its Facebook page (@helloglowofficial) and Instagram (@helloglowofficial).
Hits: 173