Acer Philippines, a leading tech, and innovations company, partners with semiconductor giant AMD launched the Acer GX-281, the first pre-assembled CPU in the country powered by AMD's next-generation Ryzen 7 processor. Continuing both companies' mission to provide affordable and high-quality tools for technology, the unit was formally launched in Chaos Manila Nightclub last September.
"AMD is a leader in disruptive technology, and this is why it was only logical to partner with them for the GX-281," shares Sue Ong-Lim, Sales and Marketing Director of Acer Philippines. "Quality and affordability should never be a compromise, and we're happy to have found a partner who shares the same principle."
The Acer GX-281, lodged in a sleek armor-shaped housing lined with smoldering red LED lights, is powered to provide super speed data transfer, massive storage and expansion capabilities, stunning 4k resolution visuals, and Qi standard wireless charging.
The Ryzen 7 processor boosts the GX-281's performance further with 8 CPU cores, 16 Threads, a 3.4GHz base clock speed which may be extended to 3.8GHz, and an Extended Frequency Range (XFR) for premium performance and processor cooling.
"The Ryzen 7 has grown a tenacious reputation among gamers and content creators worldwide for its exceptional processing power and surprising affordability," said AMD Director of Consumer Sales for APJ, Peter Chambers. "We've always been committed to innovating solutions to meet our customer's needs, which we share with Acer Philippines in the launch of this new product."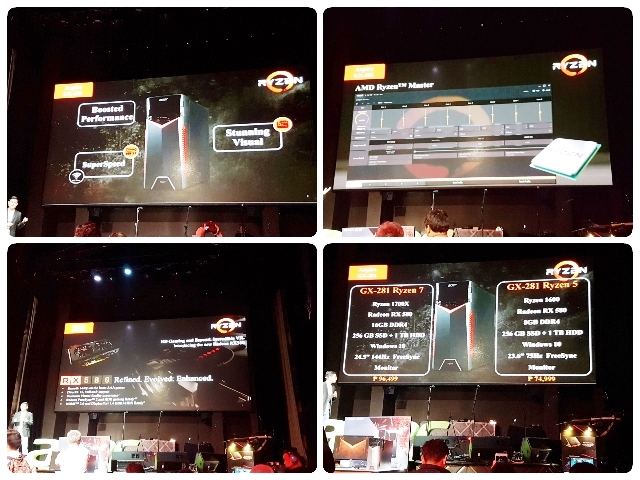 A powerful disruptor
Sporting an impressive eight cores each with Simultaneous Multi-Threading (SMT), the Ryzen 7 boasts a 52% improvement in instructions per clock versus AMD's previous best which means it is able to process more clock for clock. The Ryzen 7 also platforms single-threaded performance that heavy PC users such as gamers and content creators will surely enjoy not just for its powerful processing ability, also but its affordability.
AMD's Ryzen 7 is also equipped with Sense MI, which allows the processor to accurately and expertly monitor itself within a milliamp, millivolt, milliwatt, and even a single-degree Celsius which is used by Precision Boost to pinpoint its ideal clock frequency. The processor's robust performance has been highlighted and raved about by numerous tech reviewers and gamers worldwide.
"We've identified the segments of our markets and what their processing needs are, and with this information, we've customized the Ryzen 7's key capabilities to address successfully each challenge our customers face," said Chambers.

From L-R: Acer Philippines Senior Consumer Sales Manager Raymond Delos Reyes, AMD Philippines National Consumer Sales Manager Glenn Serrano, Products Lead for Acer Philippines Jasper Ong, and AMD Director of Sales for Asia Pacific-Japan Peter Chambers
Rivaling more expensive CPUs in the market for content creation, Ryzen 7 complements its boast of high-core count chip power with its humble affordability. With the rise of game streaming on platforms like Twitch, the current consumer-grade processors have not been able to effectively address the need for processing power and undisrupted streaming. But with the Ryzen 7, this might well be on its way to being a thing of the past as its multiple cores and threads provide a beautiful and seamless gaming and streaming experience.
A new era of pocket-friendly excellence
This first-in-the-country product extends to Filipinos a strong and dependable tool in gaming and content creation without burning holes in the consumers' pockets.
"We believe this event isn't simply the launch of the Ryzen 7-powered CPU," said Ong-Lim. "Hand in hand with AMD, we are ushering this new era of undisputed powerful products that are delightfully pocket-friendly. We've always championed proactivity in providing only the best to our consumers, helping power their dreams and work, today we are moving closer to reaching that goal," she added.
To know more about this product's power and precision, visit: www.acer.com.ph, follow @acerphils on Twitter, and visit the Acer Philippines Facebook page at www.facebook.com/AcerPH.
About Acer
Founded in 1976, today Acer is one of the world's top ICT companies and has a presence in over 160 countries. As Acer looks into the future, it is focused on enabling the world where hardware, software, and services will infuse with one another to open up new possibilities for consumers and businesses alike. From service-oriented technologies to the Internet of Things to gaming and virtual reality, Acer 's 7,000+ employees are dedicated to the research, design, marketing, sale, and support of products and solutions that break barriers between people and technology. Please visit www.Acer.com for more information.
Hits: 719