Even if you haven't tried it yet, you've most likely seen Korean soju in your local supermarket and liquor stores. They're also common offerings in online stores. With the popularity of this Korean alcoholic drink, they're also often featured on mainstream media and on social media.
It's not difficult to see why this drink is popular. It's straight-up clean and clear, literally and figuratively. It's a no-frills drink that gives you just the right buzz – for as long as you drink within your limit, of course. At around 19% to 25% alcohol, you're good for maybe 3 to 4 shots.
For the younger generation, the taste of soju is easy to love. It's like drinking Sprite, only with alcohol and without carbonation. This drink also comes in a list of mostly fruity flavors. Although, this flavored soju definitely does not taste anywhere close to fruit juice. There's just enough fruity taste and smell infused into the original flavor to give a twist to the otherwise simple drink.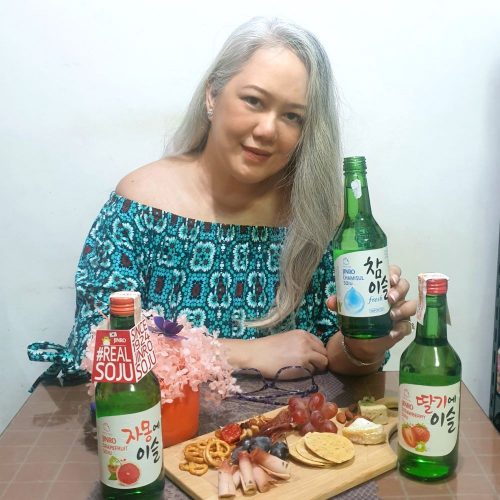 The appeal of Korean soju to the young ones also comes from its affordability and accessibility. A bottle of soju does not cost nearly as much as a bottle of wine and you can buy it from most groceries and liquor stores on-site or online too. Korean restaurants also usually have soju on their drinks list.
Flavors and Mixes of Korean Soju
Soju comes in different flavors, but the most common are those that add a fruity taste. Jinro's flavored soju line has citrusy Grapefruit, sweet Green Grapes, playful Plum, and tart Strawberry which are familiar candy flavors of everyone's childhood. These can be enjoyed by the shot on their own, with meals especially Korean cuisine, or with your favorite bar chow.
You can also play around and be creative with your Korean soju. There are simple mixes that you can put together quickly to turn your shots into cocktails. Check out these easy soju cocktails:
1. Soju Yakult is one of the more popular soju cocktails. It transforms the clear drink and gives it a slightly 'milky' feel. You simply have to mix together Yakult and soju. The proportion really depends on how strong you want your drink to be. Go 1:1 and then adjust according to your taste. You can also add Sprite (Koreans use Chilsung Cider) if you want to water it down a bit.
2. Coffee lovers can switch up their Kahlua cocktail for Soju Coffee. Just mix two parts soju and eight parts black coffee, pour over ice, and you have a youthful cocktail that packs a punch.
3. Try Somaek or Cojinganmek for alcohol on the alcohol mixer. Somaek is beer and soju. Add Coke to the mix and you have Cojinganmek. Make Somaek with a 3:7 soju to beer ratio. For Cojinganmek, mix together one-shot soju, one-shot Coke, and a cup of beer.
Enjoying Your Soju
It's fun to try all these flavors and mixes when you drink soju. Playful and youthful as these drinks may seem, remember that they are alcoholic drinks. This clear drink's alcohol content is higher than beer and wine. With this in mind, you can drink it in moderation and enjoy happy hour whether with your family or with your friends.
For more info about Flavored soju – https://hitejinroph.com/
Hits: 112