I love it when companies, brands, known personalities, and artists come together to create and promote something which could help the environment and the people. Sad that when Hope in a Shirt was launched, I was indisposed. But, it's definitely worth blogging about and promoting, my way of helping the cause. Also, where else can you get a fashionable shirt, art made by Solenn Heussaff, which came from 11 recycled plastic bottles and all profits will go to building public school classrooms around the country?
Here's the story on how Hope in a Shirt started.
Last Christmas, the founder and President Nanette Medved-Po gifted her good friends with no ordinary shirts — they were unbelievably soft custom printed shirts made from 100% recycled plastic bottles. The gift was a hit among her friends, who in turn told their friends about it. When Nanette approached Solenn with the idea of creating designs for an exclusive Hope in a Shirt collection, she loved it: not only would she be supporting a sustainable lifestyle; she'd also be investing her talents in the future of Filipino kids, by whom her art is inspired in the first place.
After receiving a shirt of her own, Solenn brought it with her on trips and tapings, styling it for events on some days, and lounging around in it on others. She was wearing what was to be the next canvas for her art, or #SolennArt, as she aptly calls it. With help from our good friends at Globis, Inc., every one of Solenn's brush and pencil strokes were transformed into high-quality textile prints. We're not exaggerating when we say Solenn may as well have painted directly on the shirts because that's sure what it looks like.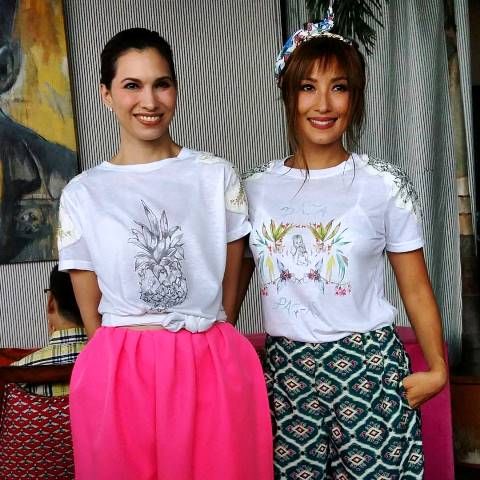 A first in Philippine fashion, each of the shirts on this line is made from 11 recycled plastic bottles. Solenn, in her first foray into fashion, has artfully designed each shirt with our advocacy in mind. Yet another first, we launched this collection in a special HOPE-branded vending machine — an idea inspired by New York fashion week.
The result was a disruptive and desirable product that celebrates art, innovative sustainability, and a worthwhile cause. Our HOPE vendo will pop up in 3 surprise locations, for only 2 to 3 days each. We're producing them in extremely limited quantities — just 200 — so excited shoppers can keep tabs on our Facebook – @HopeinaBottle and Instagram – @hopeinabottleph pages to find out where we pop up. Those who miss their chance to shop at vendo caravan can rest easy knowing our shirts is now available exclusively through Zalora.
With Hope in a Shirt, we kick-off HOPE as a movement that celebrates and empowers consumers to positively impact thousands of Filipinos, one HOPE-branded product at a time.
If you wanna help build new public school classrooms, check out Hope in a Shirt at Zalora now – https://www.zalora.com.ph/hope/.
Hits: 549