Acer Philippines, a leading tech and innovations company, is very busy this year what with the launch of their new cool products and now a partnership with Ms. Alessandra De Rossi and Empoy, for a series of short films, of course featuring an Acer laptop. Not only that, a team-up with Salvatore Mann, a men's fashion brand under retail giant SM, for its pre-holiday promo wherein its newest bag collections were featured in the short film watched by many during the press launch at Mega Fashion Hall, SM Megamall.
Producing a short film that was visually nostalgic, lighthearted yet somewhat tear-jerking and easily relatable, Acer Philippines tapped Kita Kita actors Alessandra De Rossi and Empoy. Titled #KasyaPa, the video tugs at heartstrings as it shows the struggles a lot of people experience in work, in life, and especially in love.
Meanwhile, creating an event that embodied both Acer and Salvatore Mann in aesthetics, the Mega Fashion Hall was transformed to fit a sleek runway and was accentuated with neutral tones and elements. This set the backdrop for a striking fashion show where the Salvatore Mann collection, designed exclusively for Acer's pre-holiday promo, was launched.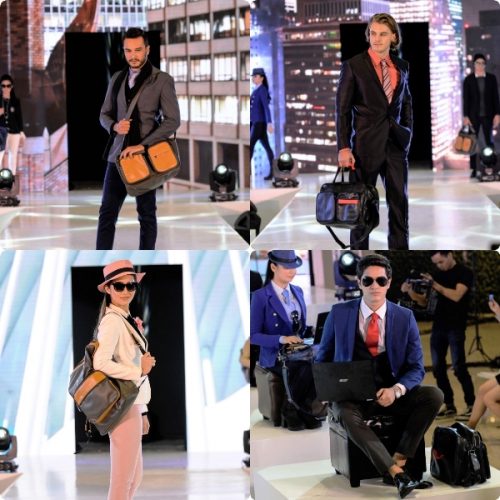 "We build partnerships with brands and personalities that not only resonate with Acer's aesthetics and appeal, but help enrich and strengthen them as well," shares Sue Ong-Lim, Acer Philippines' Sales and Marketing Director. "Empoy and Alessandra, in their most recent film Kita Kita and as seen in #KasyaPa, exhibit relatability and resilience – traits that personify Acer. Meanwhile, Acer laptops and gadgets are sleek and fashionable, yet highly functional – characteristics that define Salvatore Mann bags too."
The Acer pre-holiday promo will run until October 15, 2017, during which any purchase of Acer laptops and projectors will earn buyers exclusive Salvatore Mann bags. Customers will get a duffel bag or backpack for every purchase of an Acer projector, an Acer Aspire i3-powered laptop or desktop; and both for every purchase of an i5-powered, i7-powered, or all-in-one Acer Aspire laptop or desktop. Additionally, exclusive Salvatore Mann sling bags await SM Advantage, SM Prestige, and BDO Rewards Card Holders. Salvatore Mann is exclusively available in the SM store.
"Salvatore Mann is deeply honored to be partnering with Acer for its pre-holiday promo," shares Rina Bugayong, Senior Assistant Vice President for Marketing for SM Shoes and Bags. "Hand in hand, Salvatore Mann and Acer have shown that style and functionality can be achieved; it need not be one or the other."
The #KasyaPa video may be found at the Acer Philippines Facebook page at www.facebook.com/AcerPH. For more information on the promo, visit: www.acer.com.ph, follow @acerphils on Twitter, and visit the Acer Philippines Facebook page. For more information on Salvatore Mann, follow @salvatoremann on Facebook and Instagram.
About Acer
Founded in 1976, today Acer is one of the world's top ICT companies and has a presence in over 160 countries. As Acer looks into the future, it is focused on enabling a world where hardware, software, and services will infuse with one another to open up new possibilities for consumers and businesses alike. From service-oriented technologies to the Internet of Things to gaming and virtual reality, Acer 's 7,000+ employees are dedicated to the research, design, marketing, sale, and support of products and solutions that break barriers between people and technology. Please visit www.Acer.com for more information.
Hits: 529