I've been using all variants of Asian Secrets Lulur Whitening Body Scrub since the product was first introduced. I already used up several jars and still enjoying its benefits to this day.
What is Asian Secrets and its Benefits:
It's a whitening body scrub that exfoliates dead skin cells, makes skin softer and smoother
The idea was derived from Indonesian ritual called Lulur where the bride undergoes the beauty ritual in preparation for her wedding day.
When used frequently, dark patches disappears which eventually evens out your skin tone. Perfect for dark underarms, knees and elbows.
Safe Ingredients : Tocopheryl acetate, Mineral Oil, Camellia Sinensis extract, Olive Oil, Glycerin, Squaline, Dimethicone, Titanium dioxide
Available in 135g and 250g – Variants: Green Tea and Vitamin E, Licorice and Mulberry, Seaweed and Vitamin E
They also have Asian Secrets Bengkoang Body Soap – Variants: Olive Oil, Betel Nut
For more extensive details on Asian Secrets Body Scrubs, visit HERE
Why I Love Asian Secrets:
I love the smell – no hint of alcohol or any chemical products. Every jar reminds me of those age old perfumes and I am hooked. Leaves me smelling like a princess every time:)
It can be used daily – I did try to use it every single day during the first 2 weeks when I got a whole box, but every day it took me about 2 hours to finish my bath instead of the usual 1 hour, lol. So, since I'm not after the whitening effect but of the exfoliating process, I only use it at least 2x a week.
It does whitens your dark spots – I had a dark circular spot on my left elbow and now it's gone. Plus, though I use it only 2x/week, I noticed that other parts of my body slowly evens out.
Cleansing beads – look at the photo below.. can you see the tiny beads? That's what helps exfoliate dry and dead skin cells..
Can definitely make your skin smooth and soft – if I may say, nearly like a baby. I simply love how smooth and soft my skin is now and hubby approves it, lol.
Affordable Price – 135g costs just Php130 and this jar will last a month if used every day. That's huge savings already aside from the overwhelming benefits.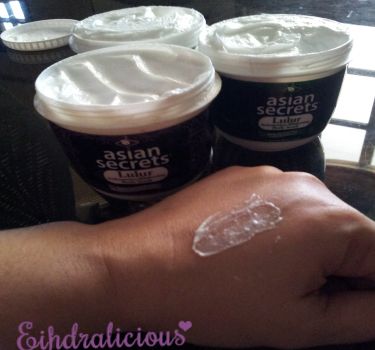 If you wanna try Asian Secrets Whitening Body Scrubs, go to your nearest supermarket or Watsons and find out what it can do to your skin! I'm sure you'll be amazed too!
* Disclaimer – I received no compensation for this publication apart from the review products sent by Unilab. Opinions/reviews expressed on this post are 100% my own and may differ from those of yours. This disclosure is in accordance to the Federal Trade Commission's 16 CFR, Part 255: "Guides Concerning the Use of Endorsements and Testimonials in Advertising". For detailed disclosure please read it HERE.
Hits: 378