Let's face it, nothing beats the fragrant scent of freshly laundered clothes. It's even better when the scent lingers after washing. And who doesn't love wearing stain-free clothes? Especially today, when looking our best is important.
This is a season for all fun activities, but homemakers want to ensure that their family's clothes remain clean despite all sweat and dirt that comes with it. Whether it's building sandcastles at the beach, hiking through the mountains, kids playing at the park, or baking sweets at home, Breeze has got you covered!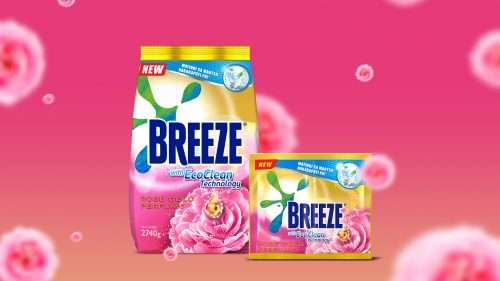 Formulated with EcoClean Technology, it can easily remove tough stains such as chocolate, mud, ketchup, juice, and ink in just one wash. But that's not all – Breeze also has a Rose Gold Perfume that provides a long-lasting fragrance, leaving your clothes smelling fresh and clean after washing. 
Say goodbye to tough stains and hello to long-lasting fragrance with Breeze's Rose Gold Perfume. Try it today and experience our ultimate laundry solution for Filipino moms. Matindi sa mantsa, may long-lasting fragrance pa!
For more information about the product, visit Breeze Philippines' YouTube channel. Breeze Rose Gold is available on Unilever Home Care's Shopee and Lazada pages.
Hits: 57