Easter is just a few hops away and Commercenter Alabang is preparing to celebrate it with your family!
To commemorate one of the most significant religious holidays, the mall is hosting an event that will allow families from the surrounding communities to come together to enjoy a day of fun, food, and good old-fashioned competition for colorful eggs and hidden treats. Families with children ages 4 to 12 years old are invited to come to the mall's grounds on Easter Sunday,  April 21, 2019, to participate in a mall-wide Easter Egg Hunt. The on-ground activities will start at 2:00PM while the actual Easter Egg Hunt will happen at 3:30 PM.
"It will be fun for the whole family," says Leslie Tagle-Dinglasan, Commercenter's AVP for Marketing. "Commercenter is a community mall first and foremost, and so we make sure that we host events that bring the community together; activities that allow us to get to know our neighbors, reconnect with old friends and hopefully make new ones."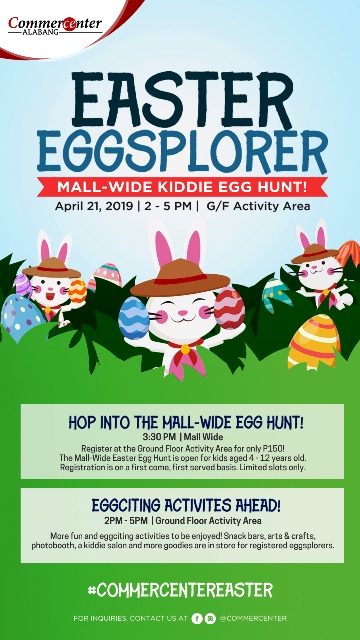 Registration for the egg hunt starts on March 22 and will continue for as long as there are open slots available. Interested families can sign up at the registration booth located at the Ground Floor Activity Center of Commercenter Alabang during mall hours. For Php 150.00, registered Eggsplorers will receive an Easter Egg Hunt kit, exciting goodies, and an activity pass for the various booths that will be set up for the day. Joining the Easter Egg Hunt is a fun family bonding activity for the holy day. While the main activity is the Easter Egg Hunt itself, families will be treated to several side activities starting 2:00 PM on Easter Sunday. These include an Arts and Crafts Booth, a Kiddie Salon, Jumbo Board Games, and Carnival Games. Parents can also relax and chow down on delicious snacks while waiting for their kids at the snack bars. Slots are limited, so hurry and secure your tickets to be Eggsplorers for the day!
Hits: 280