Have you tried the new Ever Bilena Lip and Cheek Roller? It promises to give an instant glow and natural blush, teens are raving about it! Another plus for this is the very affordable price of only P125 and you've got a 3-in-1 product!
The country's leading makeup brand offers tips on how to maximize the EB Lip and Cheek Roller like a professional:
Bring and use it everywhere. EB Lip and Cheek Roller is convenient to use anytime, anywhere as it comes in roller form to avoid messy application. It can also be your 'make-up-on-the-go' because it can fit into your small bags and pouches.
Use it for your lips. Achieve healthy-looking lips by prepping with a lip exfoliation product to remove dry skin. You can also swipe gloss over lips or blend with moisturizer to ensure that your lips are soft and smooth the whole day. Make sure your lips are clean and dry before applying the tint. For a more fun and playful look, try the gradient lip. Dab the EB Lip and Cheek Roller at the center of your lips then smack them together to blend the color towards the edges. Top with your concealer or foundation and add more tint to the center if the color is too light. With clean fingers or a brush, blend the edges to soften the look.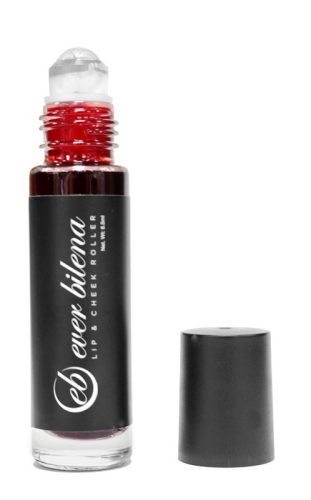 Blush for your cheeks. EB Lip and Cheek Roller is a water-based product that can easily dry upon application. To avoid patchy or uneven application, roll the product first on the back of your clean hand. Using your index, middle and ring fingers together (Note: Wash your hands before doing this and wipe roller clean after every use), dab tint from your hand to your cheeks then blend upwards from apples of cheeks towards hairline for a more natural flushed look. You can also pat some over the bridge of the nose for the "drunk blush" look.
Tint for your eyes. EB Lip and Cheek Roller work as an eyeshadow too! For a monochromatic look, dab your clean ring finger on your preferred tint shade and then lightly pat and blend it on your eyelids. Be sure to work fast as it dries easily. For more depth, play around with the different shades. Use the lightest pink shade all over the eyelids as a transitional color and then apply the darker pink shade from the outer corner of the lids, blending inwards for a more seamless makeup look.
Care for your tint. EB Lip and Cheek Roller is FDA-approved. It is also Paraben-free, fragrance- and flavor-free. To maintain its quality, store your roller tints in a cool, clean and dry place. Also, it is best to avoid sharing roller tints for hygienic reasons.
The EB Lip and Cheek Roller is available in Uptown Red, Night Berry, and Red to Go. New shades have also been developed for other skin tones – Mandarin Muse, Toast of New York, Whipped Blush, Coral Crush and Red Bomb.
The EB Lip and Cheek Roller is available at any Ever Bilena counter in leading supermarkets, drugstores, convenience stores, and department stores nationwide.
To learn more about Ever Bilena and its products, visit www.everbilena.com.ph and Facebook page www.facebook.com/everbilenacosmetics and Instagram https://www.instagram.com/everbilenaofficial/
Hits: 375