Putting on makeup helps you express your current mood, further enhance your natural beauty or go bold with your self-expression. This year's J. Cat Beauty PH collection is all about breaking the rules, going bold and glittery yet still feel good about your color combo coz you will stand out when you #TurnUpTheVolume with your selections and look like one helluva #MakeupKitten!
Feel Good, Look Good, and Break the Rules
Since its founding in 2012, J. Cat has bewitched beauty enthusiasts worldwide with its rich color payoff, fun products, and vegan and cruelty-free lines that encourage both newbies and pros to break the mold and create their own fearless looks. All of J. Cat's products are free of phthalates, sulfates, GMO's, Triclosan (a preservative) and other toxic chemicals. Its nail polishes are also free from formaldehyde and toluene, while also being cruelty-free and budget friendly.
J. Cat knows that real beauty comes from within, but what sets J. Cat apart is its ability to help make up junkies and newbies transform and express all their many facets.
Influencers and celebrities from all over the world have continued to rave about J. Cat and its inventive campaigns. Online stars like Desi Perkins, Michelle Phan, and Tati Westbrook plus big-time celebs like our very own Arci Munoz are fans who love how J. Cat has finally found the perfect way to give high-quality product without breaking the bank.
Amplify Your Makeup and Switch Up the Dial on Beauty
Since being introduced to the Philippine market in 2017, Filipino beauty enthusiasts have been privy to a massive slew of products that cater to every look from the Rock Maiden to the Rainbow Reign.
This year, though, J. Cat Beauty PH invites a bigger and more fearless approach to makeup with its newest campaign called Turn Up the Volume. While their staple products still enable you to nail every and any look that fits your fancy, J. Cat wants you to make 2018 the year you start your new makeup adventure as they give you the tools and inspiration to take charge and have the choice to be as bold as you want.
Turn Up the Volume invites makeup lovers from all walks of life to take a step out of their comfort zone by making their everyday bolder. Whether that's a new addition of a pop of color on your neutral-shaded lids, a full-blown rainbow lip for your evening out, or a versatile look that will easily transform and take you from day to night with just a few strokes and dabs of daring hues — J. Cat Beauty PH can elevate your go-to looks and dial up the boldness.
J. Cat's newest campaign underscores the uniqueness within us all and encourages users to let out their inner J. Cat kitten — the undeniable club chic life-of-the-party who isn't afraid to explore the different volumes of bold beauty that J. Cat beauty can take them to.
Take Risks and Turn Up
That's why last July 19, 2018, at Poblacion's Dulo MNL, five of the biggest and most innovative MUAs came together to amp up the volume to show how to break makeup rules and, instead, make your own!
It's a multi-sensory experience that showcases various areas, each with its own distinct look and persona that'll transport you into J. Cat's loud and proud world.
J. Cat Beauty PH's Turn Up the Volume campaign launch was an immersive activity at every corner that just begs to be Instagrammed. This retro club-esque event was filled with holo, neon lights, plush chill-out spots, specially-curated food and cocktails, pumped-up music, addictive games, exclusive giveaways, and of course, tons of makeup, that'll turn up the volume from timid and tame to audacious and unapologetic.
Turn Up the Dial with Five Volumes of Beauty
Each of our five MUAs has their own stations. Within these five stations, you'll get millions of colors, and countless makeup inspirations as a live model get the full treatment with each makeup artist.
Volume 1- "Pop of Color": At Teena Arches' station see how you can control the dial on your everyday makeup by learning how to play with those colors that you might normally intimidate you. This look can take you from day to night and will make brown and hazel eyes pop!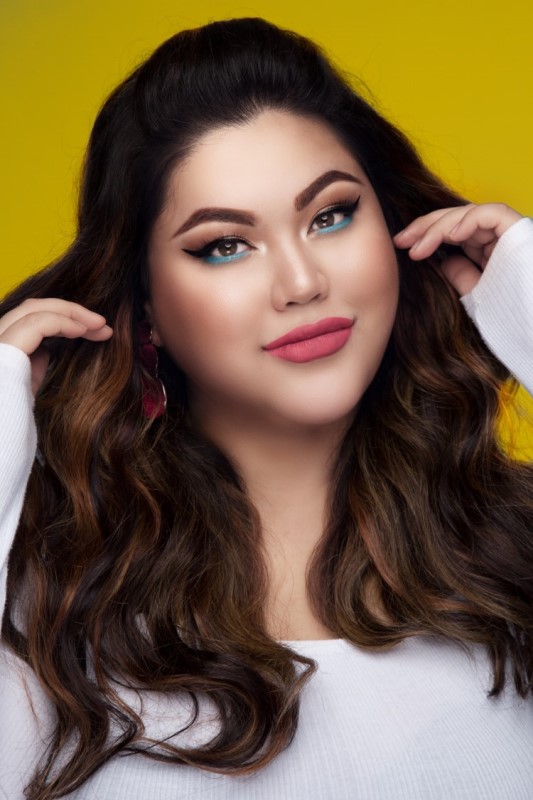 Volume 2- "Dare to Sparkle": The 2nd featured MUA, Hanna Pechon will demonstrate how to incorporate glitter into your go-to look. With inspo coming straight from cats with eyes of different hues, this will give the windows to your soul a whole new spirit.
Volume 3- "Color Me Bold": With Jherome Ramos will showcase a look based off the J.Cat girls' essence: the fearless, loud, and bustling life of the party. A play on the some of J.Cat's greatest hits; a medley of smoky burgundy colors and deep lip shades that'll be perfect for every night out on the town and out of your comfort zone.
Volume 4- "Hologlam": Katchie Mejias will be dedicated to all things holo! As a nod to the early 70s, this look combines the past with a futuristic twist that is also partly inspired by the multi-dimensional iridescence of the sea.
Volume 5- "Full On Club Chic": Last but not the least, Min Ortiz, see how to nab that mermaid-inspired look that's been all over the Net, with edgy holographic accents and dark seductive lips that will have you looking beat to the gods!
Enter the J. Cat Beauty PH Experience
Each station placed the spotlight on how to use some of J. Cat's most popular products like; Lipfinity Matte Lipsticks, Eyeshadow Palettes, Liquid Highlighters, Flash Metal, Holo Toppers, Rock Glitz Eyeliners, and many more.
"Forget that makeup is meant to disguise flaws, instead start looking at makeup as a way to highlight your unique personality and creativity," said Bwelle Madera, president of Bwelle Store Enterprise, Inc., the official distributor of J. Cat in the Philippines. "Why stay stuck in your comfort zone when you can turn up the volume and enter a whole new world of color and self-expression?"
About J.Cat Beauty
Born in Los Angeles, California, J. Cat is the cool new kid on the block that's sharing its loud and proud personality to your vanities with cool campaigns and even cooler products. Vegan, cruelty-free, made without harmful chemicals and at an affordable, J.Cat was launched in the Philippines in 2017 as a new brand for makeup aficionados who want to enter the exciting new realm of color and confidence.
J. Cat Beauty PH stores can be found in Gateway Mall, Uptown Bonifacio, Ayala Malls Vertis North, Alabang Town Center & Ayala Malls the 30th.
Visit their website – https://www.jcatbeautyph.co/ and J. Cat Beauty PH Facebook page – https://www.facebook.com/jcatbeautyph/ to know more.
Hits: 607