Well, imagine that! Jergens has been around for more than a century already and continuously catering to different skin care needs! I was amazed when I saw that the very first Jergens lotion bottle still exists and was displayed during the event held at the Eastwood Mall Atrium during the #GlowInMySkin event.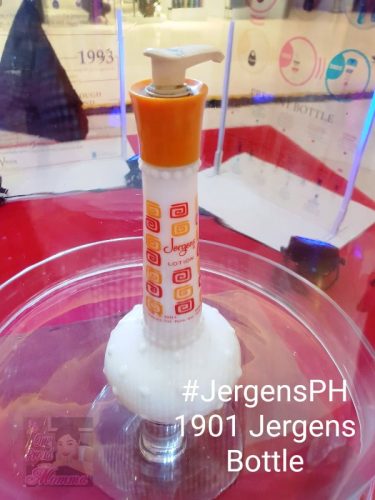 I say Jergens is very effective in whatever skin problem (dry, firm, soothe etc) you may be experiencing because, hello, it won't last a hundred years if it's not and I'm sure thousands of people are using or have used this product at one time or another in their lifetime. This is why Jergens has many variants that cater to different skincare needs – but with the same goal in mind: to take dry and dull skin and transform it into the glowing and healthy skin.
JERGENS: FROM HUMBLE BEGINNINGS TO A HOUSEHOLD NAME
The Jergens story dates back to in 1882 with the founding of the Andrew Jergens Company in Cincinnati, Ohio. Initially, a small-scale soap making shop, the company grew steadily over the next century as Jergens continued to evolve to become the skincare giant that it is today.
Jergens Moisturizers were introduced to the Philippines in the 1960s when the Andrew Jergens Company USA granted Vibelle Manufacturing Corporation the license to manufacture and distribute the brand in the Philippines. Fast forward to the 80s and the brand rose to become a household name in the country thanks to the Jergens Cherry Almond Lotion that consumers loved, known today as the Jergens Original Beauty.
Always at the forefront of body care innovation, Jergens continues to adapt to trends by continuously innovating body care products that let women feel great in their skin – from the first product, a coconut oil soap that jumpstarted the business, to being one of the firsts to include Aloe in lotion, and now with the illuminating Hydralucence technology in the current moisturizers.
A CELEBRATION OF GLOWING SKIN WITH JERGENS SKINCARE
To celebrate more than 100 years of skincare, the brand kicked off the campaign with the #GlowInMySkin event that took place in Eastwood Mall Atrium Hall from July 5-7, 2018. The grand event invited media guests and loyal supporters and showcased the Heritage corner – a peek into the brand's rich history with one of the oldest Jergens lotion bottles from the early 1900s as the centerpiece. A brand talk by Brand Manager, Marie Lineses, helped people learn more about the brand's legacy and the current product line-up with Hydralucence technology.
Jergens has also unveiled their influencers for the #GlowInMySkin campaign: Host and model Janeena Chan, DJ Debbie Then, fitness coach and Greenpeace Ambassador Kayleen Ortiz, MYX VJ Sunny Kim, celebrity stylist Trish Denise Ramos, and Vlogger Reese Tayag.
The fun was just beginning as a fashion upcycling workshop, headed by celebrity stylist Trisha Denise Ramos, took place.; the workshop was all about re-working clothes to style them differently for a new look to show that old can still be new and trendy. For fitness junkies, fitness instructor and Green Peace Ambassador, Kayleen Ortiz, demonstrated different workouts for even the busiest people in Fit On The Go fitness workshop to communicate that healthy, glowing skin is a combination of self- care, skin care, and a healthy, holistic lifestyle.
And looking great doesn't stop there; Magic 89.9 DJ Debbie Then also had an Instagram Editing and Selfie 101 workshop that helped guests achieve great photos; the workshop also relayed the message that editing apps and filters can only do so much, and that great, glowing skin is always the difference-maker in photos.
Although each workshop took on different topics, there was one theme that remained the same. Having healthy and glowing skin is very important for everyone and especially helps with confidence. Here Jergens can help you Glow in your Skin, thanks to their timeless lotion formula that makes skin care possible for every type of lifestyle.
About Jergens
Jergens moisturizers have been dedicated to helping women achieve soft and gorgeous skin since 1882. Every moisturizer and body cleanser is designed to enhance how your skin feels and looks in order to make you feel confident and beautiful. They offer a range of products that aim to transform skin for an improved look where there is glowing and healthy skin.
For more information, please visit Jergens Philippines on Facebook https://web.facebook.com/JERGENSph.Vibelle/, on Instagram https://www.instagram.com/jergensph_vibelle/, and on Twitter https://twitter.com/jergens_vibelle. Visit the official website at http://www.jergens.com.ph/.
Hits: 1499