Everyone has goals they want to achieve, to maximize their potential, and a device to help in this journey. Starting February 10, that device is now within reach for Filipinos thanks to the strong partnership with leading telco provider Globe and tech giant Samsung, with the pre-order launch of its newest flagship device: the Samsung Galaxy S22 Series.
"Whether you're an accomplished mid-career professional who enjoys capturing and sharing moments in your day to day, be night or day, a yuppie who likes being in the outdoors traveling all over the world, or an established industry leader who wants to leave a lasting impact on others, the Samsung Galaxy S22 Series, powered by Globe's 5G Postpaid and Platinum plans, are perfect for getting more things done," says Coco Domingo, Vice President for Globe Postpaid and International.

With the Samsung Galaxy S22 Series, powered by Globe 5G, Globe Postpaid and Platinum subscribers will get connectivity that's up to 20x faster than LTE, with fiber-fast speeds of up to 100 Mbps and with close to real-time latency, allowing for faster response times that enhance the experience of using the latest S Series phone. Such connection speeds also allow users to maximize Samsung Galaxy S22 Series' brightest and improved display performance, which lets you watch your favorite shows in HD without interruptions or loading times.
This February, Globe looks forward to leading the launch of one of the most awaited releases from the Samsung Galaxy S Series, powered by its 5G Plans, with exclusive lower cashouts during the pre-order period of February 10 – March 3, 2022:
Samsung Galaxy S22 – GPlan 1499 with P21,600 cashout (or +P600/month for 36 months)
Samsung Galaxy S22+ – GPlan 1499 with P30,000 cashout (or +P833 monthly for 36 months)
Samsung Galaxy S22 Ultra 5G (254GB) – GPlan 1499 with P38,400 cashout (or +P1,067 monthly for 36 months)
Samsung Galaxy S22 Ultra 5G (512GB) – GPlan 1499 with P45,600 cashout (or +P1,267 monthly for 36 months). 
Plans are available for a 24-month or 36-month contract period, including a huge data allowance, and all-day calls and texts to all networks.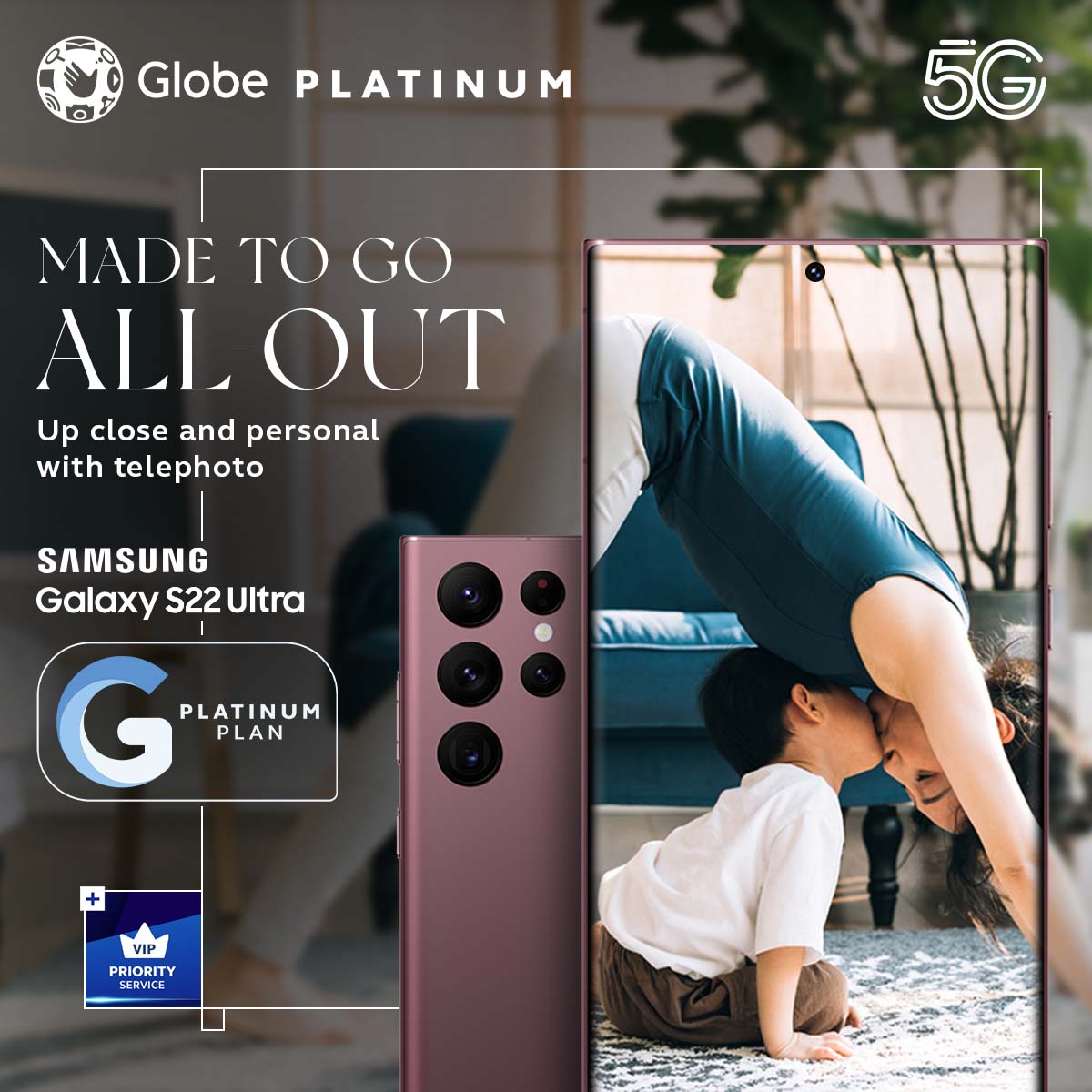 Equipped with five exceptional features, the Samsung Galaxy S22, S22+ & S22 Ultra further cement Samsung's status as the No. 1 name in Android:
Camera: There's no need to miss an important event or moment with family and friends just because of low lighting. Whether it's during the day or night, the new nightgraphy function allows capturing and sharing every moment.
Display: As customers spend more and more hours on smartphones, with the S22'S brightest display, and Intelligent Outdoor Algorithm ensure a display performance that delivers bright and clear picture quality in both indoor and outdoor spaces. Better screen visibility wherever and whenever.
Design: Available in 4 colors for each model providing a wider range of choice for every lifestyle and personality.
Performance: Now with the World's 1st 4NM processor, an improved NPU, 5G Connectivity, and Wifi-6, the new S22 can handle every task from simple to mid-weight, to heavy-lifting.
Productivity: Exclusive to the S22 Ultra is the highly anticipated S-Pen compatibility. Many of the Galaxy Note fanatics will be pleased to hear that this particular model in the S-series will now allow them to doodle, take notes, edit pictures and all of the other cool things available on the previous Note models.
"With the Samsung S22, powered by Globe 5G, in your hands, there's no stopping you from going all out and conquering many of life's possibilities," Coco Domingo says.
Hits: 128