Taking dietary supplements is essential especially for someone like me who's a year shy from 50. I don't put on much makeup as I used to because I want my skin to breathe and not clogged. So, what I do is take appropriate supplements, not forget my daily skincare regimen and I also take a trip to my derma once a month for that much-needed facial. What you see now is that glow from within. I only use sunscreen on my face, lippie and a touch of blush, that's it. I also take collagen every day, be it in tablet or juice form, it works for me. Collagen can already be found in our skin, it's what helps give our skin strength and elasticity, as well as replace dead skin cells. It needs to be replenished, thus taking a collagen supplement is necessary for an old gal like me.
I just discovered another option in taking supplements via NuEssence, thus sharing it with you here. There are two new supplements in the market, the NuEssence Collagen Dietary Supplement and NuEssence Glutathione with Mangosteen.
As I've mentioned above, makeup isn't always what can make you look great. It's actually what we eat and the supplements which can make us look and feel beautiful, healthy, glowing from within. If you want to look younger than your age and doesn't want to go under the knife to look like one, I suggest you keep track of what you intake.
I'll give you some more useful info about NuEssence Collagen and Glutathione with Mangosteen, at least check it out and see if the products will work for you. But of course, diet and exercise, in short, healthy living is necessary to achieve your beauty goals.
NuEssence Collagen Dietary Supplement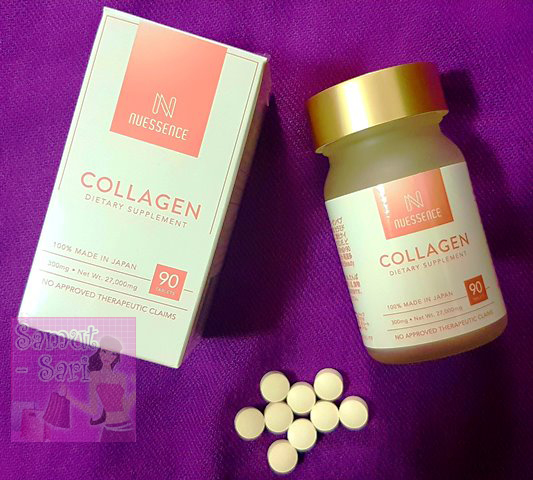 This variant comes in 30 tablets for Php999 and 90 tablets for P1,999. Quite pricey but beauty has a price, at least it's not the same as when you go for extensive beautification treatments or surgery.
It's 100% Made in Japan and can help slow down the process of aging like wrinkles, fine lines, crows feet etc. Can give you moisturized, smoother and glowing skin.
NuEssence Glutathione with Mangosteen Dietary Supplement
Also comes in 30 tablets for Php1,249 and 90 tablets for P2,799, both are available in the market.
Same with the Collagen, it's 100% Made in Japan, no wonder Japanese girls have flawless skin hahaha. Glutathione can also be found in every cell in the body and acts as an antioxidant. It helps prevent cellular damage and helps in lightening the skin.
Glutathione with Mangosteen is a great combination because the latter is not just an antioxidant but also has Vitamin C, reduces cholesterol, regulates blood flow, and boosts the immune system.
Here are the nutritional facts of NuEssence Collagen and Glutathione with Mangosteen
Coleen Garcia is glowing these days and guess what, she's into NuEssence! No wonder she looks gorgeous and got that pre-wedding glow!
If you want to know more about these products, go to NuEssencePH on Facebook at https://www.facebook.com/nuessenceph/, Instagram at @nuessenceph.
NuEssence is now available on www.lazada.com.ph and all Watson's Stores nationwide! Coming soon on Beauty MNL and Mercury Drug stores.
Hits: 3355