Selected Samsung members and media got dibs on PASS10N LAB powered by the new Galaxy S10 and in collaboration with Sunnies Studios. This first-ever series with a workshop theme – "Biz Lab" was all about entrepreneurship which Georgina Wilson and Bea Soriano-Dee, two powerhouse names in the lifestyle brand, Sunnies Studios discussed during the event.
Sunnies has become one of the Philippines' fastest-growing business empires, offering eyewear, food, and makeup in their various ventures. Behind the brand are some of Manila's biggest It Girls: Georgina Wilson, Martine Cajucom, Jess Wilson, Bea Soriano-Dee, and joined by Soriano's husband Eric Dee. Together, they have created an aesthetic that is recognizable, Instagrammable, and most importantly, attuned with trends among its millennial and Gen Z market.

The brand began in 2013 when the group sold sunglasses and prescription eyewear at affordable prices as Sunnies Studios. It instantly became a hit. Soon, it expanded its retail powerhouse to comfort food at Sunnies Cafe and to the coveted make-up products at Sunnies Face. In all its business concepts, their customer does not just buy a pair of eyeglasses or a piece of makeup but gets immersed in a sun-drenched lifestyle filled with pastel colors, beautiful people, and a South California vibe.
In just the span of a few years, the team built a business juggernaut founded on an aesthetic, sold at a price that "feels right" and that "gets its customers". Today, they manage a team of 700 people and 140 stores.

"Driven by our passions, we create experiences that mean a lot to our loyal customers," shares Wilson. "At Sunnies, we listen to what they have to say and create products that help them with that purpose."
It's easy to pin Sunnies' success on its founders' fame, but there's more to the brand than its team. Everyone is active in their different roles to ensure they meet the label's bottom line. Wilson does the company's overall marketing as its marketing director while Soriano-Dee helms the operations of the company.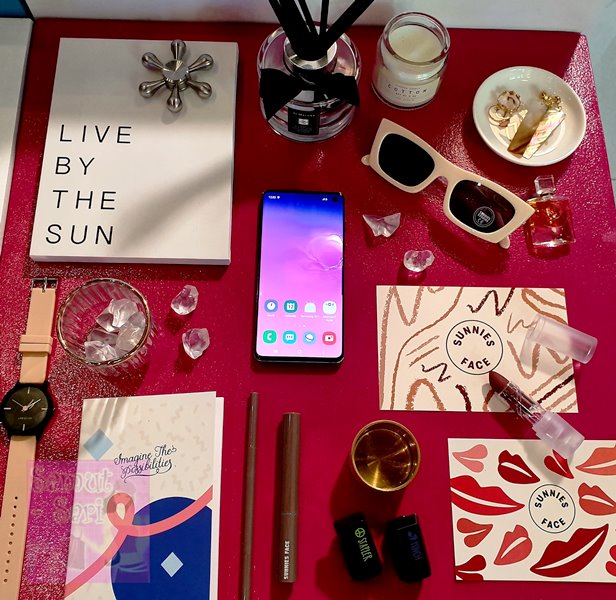 "My advice to young and budding entrepreneurs? Keep aware, keep alert, constantly innovate, and stay connected," reveals Wilson. "There's no better time to start than now. Keep creating products you love and continue to push boundaries."
Soriano-Dee stressed the importance of staying connected. She says, "work with technology that's reliable, efficient, and trustworthy. We find ideas everywhere, including things that we see online. Having the right smartphone that we can count on for our operations and inspiration is helpful for us as a brand."

The Sunnies team is powered by the Samsung Galaxy S10, which delivers next-generation experiences with its innovative set of features. As the woman behind the brand's operations, Soriano-Dee relies on the smartphone's 8nm mobile chipset to boost its performance without using too much battery. She also relies on the Galaxy S10's powerful 4,100 mAh battery which keeps up with her despite her busy schedule as an entrepreneur and a mom.
Meanwhile, Wilson counts on the Galaxy S10's Dynamic AMOLED Display to scout for trends in social media to apply to Sunnies. The smartphone's next-generation display is the first of its kind and is able to deliver cinema-grade visuals with accurate colors and vivid pictures. She also appreciates how the 128GB internal memory capacity of her device can store all her pertinent business documents, photos, and videos.
"Because we're able to make things happen with a click of a button, we're able to bring trends and innovation instantly. Looking ahead, we believe that this is how the businesses of the next generation should be like," shares Soriano-Dee.
Watch Wilson and Soriano-Dee share their secrets to running a business on Samsung's first ever, "PASS10N LAB". To know more, visit facebook.com/samsungph .
Samsung Electronics Co., Ltd.inspires the world and shapes the future with transformative ideas and technologies. The company is redefining the worlds of TVs, smartphones, wearable devices, tablets, digital appliances, network systems, and memory, system LSI and LED solutions. For the latest news, please visit the Samsung Newsroom at http://news.samsung.com.
Hits: 254