I love denim and I sometimes go out wearing it from top to bottom, and once even my kicks are of denim-like material lol. During summertime, off-shoulders and shorts are in trend and I have those in my closet.
We all love a good pair of denim. It's stylish and versatile, a great match for practically any top. And now, this favorite fashion staple literally becomes more dynamic as SM Woman introduces its newest SM Woman Premium Denim Collection designed for comfort, movement, shapewear, and style.
Every woman – no matter what age, body type, and lifestyle – will surely find the perfect fit from the SM Woman Premium denim collection:
Athleisure
Your pair of SM Woman Hyperform denim is so flexible that you can wear it to the office and to your workout after. Go smart office casual with it in a white tank top and blazer then switches it up in just the tank top as you make a quick session at the gym, for yoga, dancing, or running, after work.
The SM Woman Hyperform denim, which ranges from skinny, relaxed fit to jeggings, allows the body to move naturally or for big-time activities. Its shapewear also flattens the tummy, slims the thighs and contours the back side.
Meanwhile, try the double denim ensemble with the Power Stretch for an ultra stylish daytime to a nighttime look. Even if it's newly washed or newly purchased, you don't need to break it in as its 4-way stretch allows jeans to snap back in shape wear after wear.
Comfort chic
Who says comfort means sacrificing style? Throw in an oversized shirt with the Cool Smart to save yourself from turning into a puddle of sweat amid the Philippine heat; the Knit Denim for maximum comfort with its soft and luxe feel of knit wear or the Soft Denim which gives the illusion of worn-in denim but with a nice soft feel.
Wonder jeans
Women of various body types can find the perfect pair of jeans in Wonderfit. These super stretch jeans can fit sizes 25-35 as it stretches to fit multiple sizes making it comfortable when worn by a full figure or a slender figure. Its highly elastic fabric content makes it go back to its original size and shape after worn/washed.
Fashion denims
Finally, from stepped hem to raw edges and fringes, to wide leg and extra long cuffs, women can sport the latest denim trends with the Trendy collection.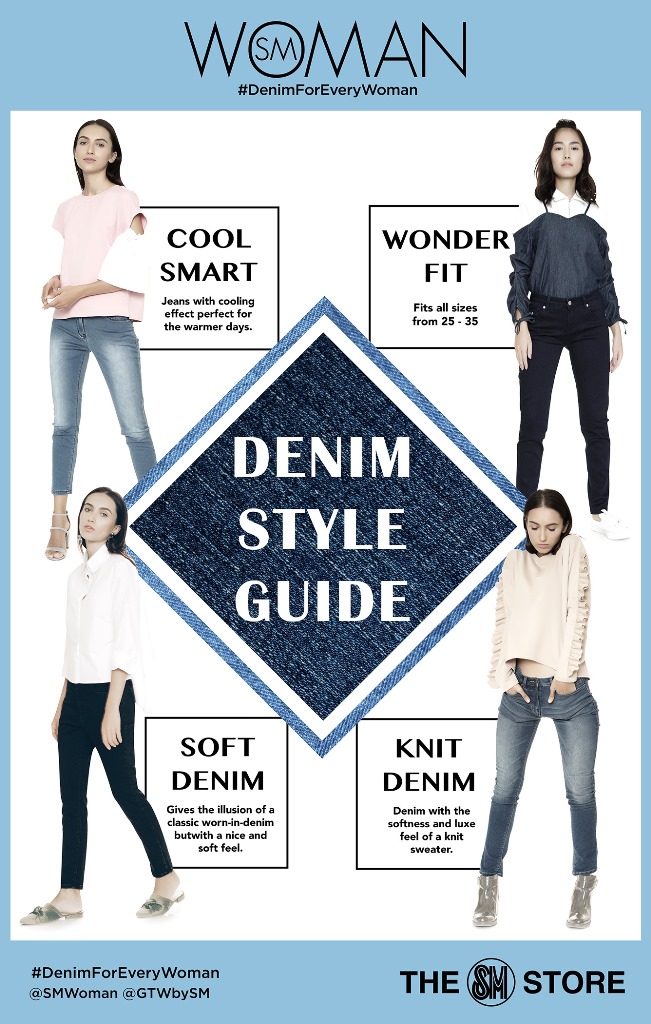 Whether you're running errands, working out or having a night out with friends, women of all body types can feel comfortable and confident in denim jeans with SM Woman Premium Denim Collection for every woman.
To know more about SM Woman, visit www.thesmstore.com, their Facebook page, https://www.facebook.com/SMWoman/ and Instagram page, https://www.instagram.com/smwoman/.
Hits: 451