I joined another community/link exchange group called The Bloggers Exchange. It's purpose is to gain backlinks from other members' sites BUT, mind you that this isn't those link farms that's sole purpose is to just link and go. Though I said that the idea here is to gather backlinks, we have a higher aim, to meet and be friends with other bloggers.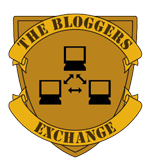 The group is composed of 100 blogs, just for the first batch. More will be added as the program opens it's doors next month. So, if you wish to be part of us and get to know the people behind the blogs, better stay tuned for it's opening.
Here are the members' blogs below. If you are a member, try and spend some time and visit our other sites. If you're not, I'm sure you'd find something that would interest you, so click on a title and read on..
Note: To bloggers listed here, just comment if you see something wrong with your links 🙂
Hits: 2642