Christmas is my favorite time of the year! Apart from the cheery holiday decors and magical feeling, people are nicer, warm-hearted, cool-headed, and jolly. It's like a switch is being turned on and people transform into a festive mood. It's also the perfect time to start a new business, launch products, touch people's hearts with a campaign, exactly what Tim Hortons did with their new Holiday Menu and #WarmWishes Campaign!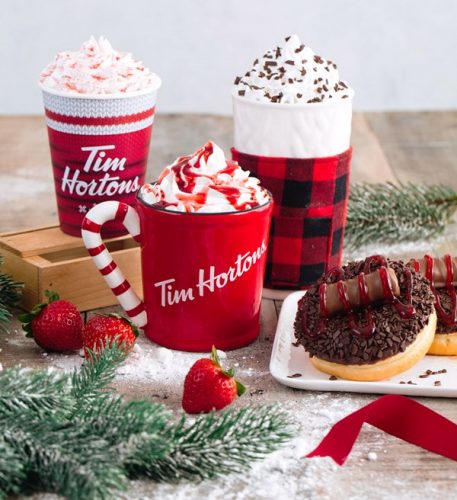 Tim Hortons, Canada's iconic cafe and bake shop, kicks off the happiest time of the year with the launch of the Tim Hortons #WarmWishes Campaign in the Philippines. Now brewing in six restaurants located in four cities (Taguig City, Manila, Quezon City, Makati City), the brand continues to expand and is set to open more restaurants this Christmas.
The #WarmWishes campaign rests on the brand pillars of warmth, community, connection, friendliness, and fun. Guests are encouraged to visit participating Tim Hortons restaurants to drop a wish in the Cup of Cheer for someone deserving this Christmas season. Whether it is a person, community or local charity, Tim Hortons will spread as much warmth and joy by fulfilling these wishes.
"This campaign is truly meaningful as it provides our Guests the opportunity to share everything good and joyful about Christmas with someone in need. We're excited to help spread the warmth of the holidays through simple and heartfelt gestures, so let's do our best to overflow the Cup of Cheer with good deeds," says Rickie Yap, Tim Hortons Philippines President & CEO.
In addition to the Cup of Cheer, Tim Hortons® is delighted to release its Holiday Menu and Merchandise collection. Started last November 6, Guests can now enjoy a wide array of delectable Christmas treats from Tim Hortons® that includes the Merry Berry Choco Chill, Merry Berry Hot Chocolate, Rudolph Red Velvet Latte, and the Christmas Log Donut. In December, Guests are in for more treats as the Christmas Menu will further expand to include delicious baked goods that Tim Hortons® has always been known for.
Chocolate lovers will find pleasure in the Merry Berry Choco Chill, a blended frozen hot chocolate drink with strawberry flavor, topped with whipped cream and dark chocolate flakes.
Those who look for the classics will love the Merry Berry Hot Chocolate, a bittersweet hot chocolate drink with whipped cream topping and strawberry sauce.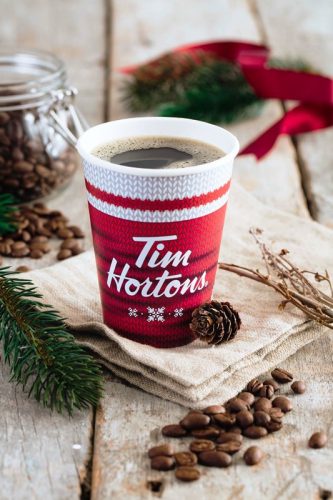 Coffee enthusiasts will go for the Rudolph Red Velvet Latte, a bittersweet blend of espresso and red velvet with hints of chocolate and cocoa topped with red velvet powder.
Not to be forgotten is the Christmas Log Donut, dipped in chocolate with dark chocolate flakes, drizzled with strawberry filling and topped with a fusion of biscuit balls, caramel, and chocolate.
There's truly a lot to watch out for this coming Holiday season at Tim Hortons®. Make sure to check out our Facebook, Twitter, and Instagram at @TimHortonsPH for more updates about the Tim Hortons® #WarmWishes Campaign.
About TIM HORTONS®
TIM HORTONS® is one of North America's largest restaurant chains operating in the quick service segment. Founded as a single location in Canada in 1964, TIM HORTONS® appeals to a broad range of consumer tastes, with a menu that includes premium coffee, hot and cold specialty drinks (including lattes, cappuccinos and espresso shots), specialty teas and fruit smoothies, fresh baked goods, grilled Panini and classic sandwiches, wraps, soups, prepared foods and other food products. TIM HORTONS® has more than 4,600 system wide restaurants located in Canada, the United States, and around the world. To learn more about the TIM HORTONS® brand, please visit the TIM HORTONS® brand website at www.timhortons.com or follow us on Facebook: Facebook.com/TimHortonsPH, Twitter: @TimHortonsPH; and Instagram: @TimHortonsPHL.
About TH Coffee Services Philippines Corporation
TH Coffee Services Philippines Corporation is a joint venture company established under Restaurant Brands International, Inc. aimed to grow an iconic brand, TIM HORTONS® in the Philippines. As the master franchisee, it is set to enable TIM HORTONS® to expand its reach outside the US by providing exemplary service and valuable products that are relevant and customized to the needs and tastes of the local market.
Hits: 557