It's hard to believe that after 8 decades of non-stop chase hilarity, Tom is trying harder than ever to catch Jerry! This year, Tom and Jerry fans will get to enjoy a whole lot more of the iconic cat-and-mouse team with a slew of series and movies during February and March on TV, on streaming apps and at the cinema.
In the build-up to the much-anticipated theatrical release of the big-screen Tom & Jerry movie from Warner Bros. Pictures, there are also plenty of themed retail activations, online activities, and fun competitions. It's the thrill of the chase!
The Cat and Mouse Hijinks Begin Here
Get a daily dose of Tom and Jerry movies, including their reimagined showcases of classic tales like the Wizard of Oz, Sherlock Holmes, and Robin Hood, among others. Catch them all at 5.15 pm every day from Saturday, February 6, on Cartoon Network (Skycable Ch 43 SD/178 HD & Cignal Ch 74 SD/220 HD).  Fans can also tune in to Boomerang (Skycable Ch 42 SD/Cignal Ch 76 SD) for The Tom and Jerry Show, every day at 6 pm and a two-month-long channel takeover featuring various Tom and Jerry series from March to April!
And if that's not enough, subscribers of the streaming service HBO GO will also get to enjoy a specially-packaged boxset of The Tom and Jerry Show Seasons 1 to 4 and movies, streaming from February 1!

Challenges and Giveaways for the Biggest T&J Fans!
Invite these two zany characters to be a part of your Facebook or Instagram activities using the #TomAndJerryChallenge hashtag. From now until February 11, fans can take the challenge and show the world where animation meets real life.
Just download the photo templates from cartoonnetworkasia.com/promo/tomandjerrychallenge and insert a photo or video of yourself or your pets to show how Tom and Jerry would fit into your world! The most creative posts will win Tom & Jerry movie tickets and cool merchandise.
Last but not least, no true fan would go without adding the latest Tom and Jerry merchandise to their collection! Enhance your little ones' Tom and Jerry movie experience by dressing them up in their favorite characters, with a toddler apparel line which would be made available at Robinsons Department Stores and Landmark in February.
More about the Tom & Jerry Movie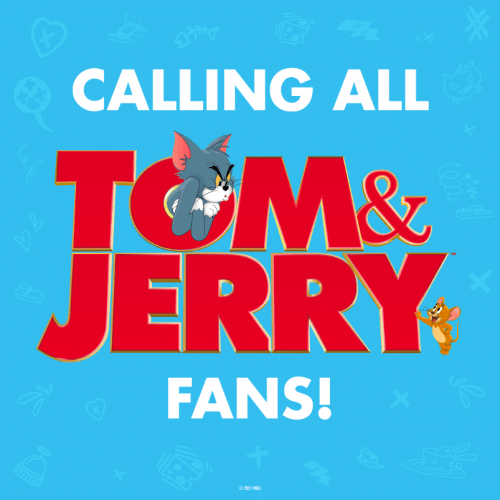 One of the most beloved rivalries in history is reignited when Jerry moves into New York City's finest hotel on the eve of "the wedding of the century," forcing the event's desperate planner to hire Tom to get rid of him, in director Tim Story's "Tom & Jerry."  The ensuing cat and mouse battle threatens to destroy her career, the wedding, and possibly the hotel itself. But soon, an even bigger problem arises: a diabolically ambitious staffer conspiring against all three of them.
An eye-popping blend of classic animation and live action, Tom and Jerry's new big-screen adventure stakes new ground for the iconic characters and forces them to do the unthinkable… work together to save the day.
"Tom and Jerry" stars Chloë Grace Moretz, Michael Peña, Colin Jost, Rob Delaney, Pallavi Sharda, Jorgan Bolger, Patsy Ferran, Nicky Jam, Bobby Cannavale, Lil Rel Howery and Ken Jeong. Directed by Tim Story, "Tom and Jerry" is distributed by Warner Bros. Pictures, and will arrive in cinemas soon.
Download the app at the App Store or Play Store and enjoy a free trial. Access HBO GO via Cignal or at https://www.hbogoasia.com/. HBO GO is available on Android TV, Apple TV, LG TV, and Samsung Smart TV – and comes with AirPlay and Google Cast functionality.
Hits: 252