After the successful VIVO V9 Mall Tour of the loveteam KathNiel last week at the SM Mall of Asia, KZ Tandingan and TJ Monterde came next. It was the first time for KZ to perform after her stint at the recent Singer 2018 and fans were ecstatic! Like KZ and her solid performances, Vivo's newest flagship smartphone, the VIVO V9 also has powerful specs featuring the 24-megapixel AI selfie camera and more!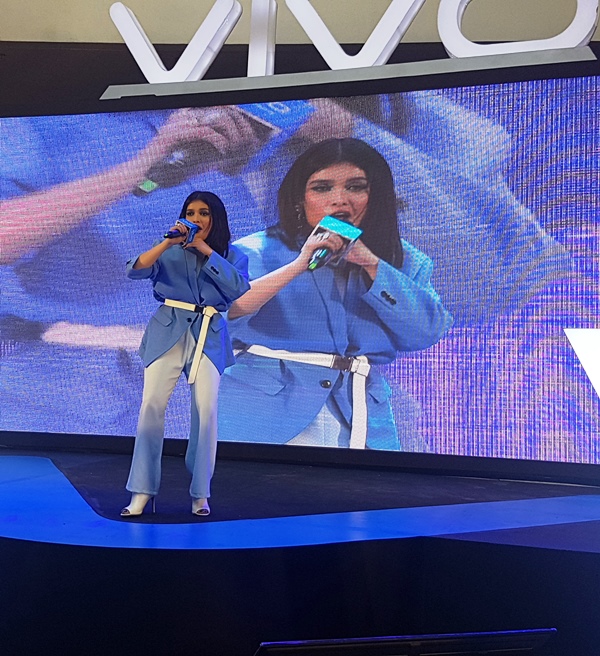 As the crowd roared in welcome, KZ belted out her signature hits like her cover of Lorde's "Royals," which she performed on Singer 2018, and Air Supply's "Two Less Lonely People in the World." She also sang her original songs, "Labo" and "Mahal Ko o Mahal Ako."
Vivo Philippines Brand Director Annie Lim, meanwhile, expressed the global smartphone company's continuous support for KZ.
"Like the rest of the Filipinos, we are very proud of KZ and her achievements on Singer 2018. She embodies the brand's personality—young, trendy, and techie. We are very happy that someone as talented as her is part of the Vivo family," she said.
"We can't wait to see what she's going to do next," Lim added.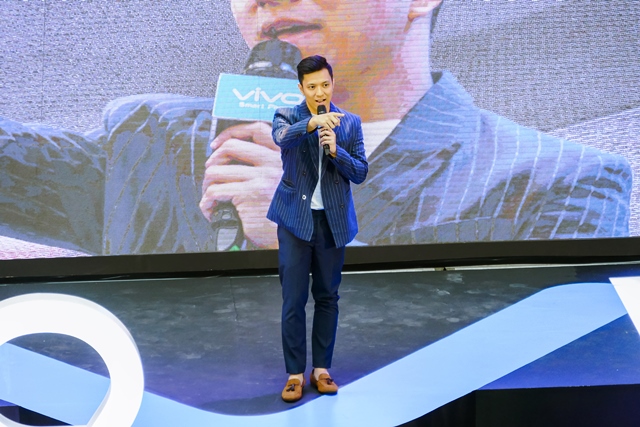 The event was even made more special since acoustic balladeer TJ Monterde, KZ's equally talented boyfriend and fellow Vivo endorser, performed for the event. He sang his own compositions, "Tulad Mo," "Kahit Kunwari," and "Ikaw at Ako."
TJ also had nothing but praises for her girlfriend as she introduced her on stage and encouraged the mallgoers to cheer KZ on.
"KZ deserves a loud crowd," he said.
After the pair answered questions from the press and gave away a brand new Vivo V9, they sang their hit duet, "Ikaw at Ako Pa Rin," which made their fans overjoyed with kilig.
KZ and TJ then went around the Perfect Shot, Perfect View Vivo V9 mall tour experience booths and greeted Vivo V9 buyers and their fans after the program. The two also surprised mallgoers when they dropped by the Vivo kiosk at the SM Cyberzone.
KZ has been a proud Vivo endorser since September 2017. She has also been active in joining Vivo in its mall tours and activities since then. TJ, on the other hand, became a Vivo endorser since May 2017.
Check out Vivo's official YouTube page for more information: https://youtu.be/d22rnb24L8A.
About Vivo
A global smartphone brand focused on introducing perfect sound quality and ultimate photography with cutting-edge technology, Vivo develops innovative and stylish products for young people. We now have over two hundred million users and are one of the preferred brands of young people around the world. As an Official Sponsor of the FIFA World Cup™, Vivo believes in the importance of encouraging young people to embrace self-expression and an energetic lifestyle. In the Philippines, Vivo is the top 3 smartphone brand in terms of market share with 1.5 million users nationwide.
For inquiries about Vivo, visit the Vivo website at vivoglobal.ph or check out their Facebook https://www.facebook.com/vivophil, Instagram https://www.instagram.com/vivo_philippines/, and Twitter https://twitter.com/vivo_phil accounts.
Hits: 396