Aiko Melendez is the epitome of how women in their prime should be – confident, competitive, aware of her own value, knows her own strengths and weaknesses plus at 41, highly desirable and has a great mombod!
I've seen her lately and I was stunned at the transformation! She has a beautiful face but her weight always got in the way in the past. But now, whew! As she walked passed me during the event of Contours Advanced Face and Body Sculpting Institute at Marriott Manila, I was smitten. She exuded elegance and an impressive sexiness, a result of an active lifestyle, balanced diet and help from Contours.
Watch the video from the event and see for yourself.
The following are some of the treatments done by Contours Medical Director Claudine Roura and her team, which ultimately gave Aiko her new svelte and proportioned figure:
Vaser 4D Tummy Tuck – basically targets loose skin and muscles as well as fat deposits in the tummy. Examples are love handles or muffin top. The treatment will eventually give you a shapely silhouette and a more toned torso. Minimal bruising and swelling with less recovery time.
Vaser Lipo of Thighs and Arms – Concentrating on the fat deposits and loose skin which gives a slimmer and toner arms or thighs with continuous treatment in just two or three months.
Fat Transfer to Butt – A natural enhancement without the use of silicone implant to give that extra oomph to the butt department. Harvested fat from previous lipoed body part/s which undergoes processing technique is injected resulting to a lifted and firmer rear. Tissue rejection is unlikely as it also came from the same patient.
Thermitight Skin Tightening for Lower Face and Neck – Aiko made it clear that she doesn't want her face touched by cosmetic surgery apart from the double chin and neck tightening. It's minimally invasive which gave her a more defined jawline. It involves injectable RF to help tighten the skin and stimulate collagen reproduction. Low downtime, no scarring.
Thermibreast Non-Surgical Breast Lifting – I immediately noticed how Aiko's breasts were well-proportioned and more lifted. She's blessed with a huge pair but of course, motherhood and age happened. This treatment tightens and helps in collagen production giving a lifted defined look with no downtime and visible scars.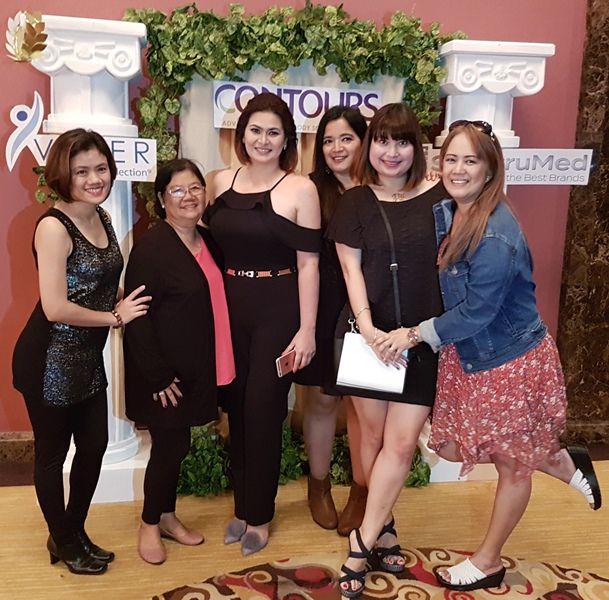 "Never stop and start by choosing what you eat and decide to be active whatever it takes. While diet and exercise are foolproof anti-aging formula, a little help won't hurt especially if you know you are in a well-trained hand of a certified professional. You know, maintaining is the hardest part but with determination and discipline, nothing is impossible", Aiko Melendez.
I was really impressed at her body and to think that all were done with only minimal downtime. I would go for some of the treatments if budget and time permits, hahaha.
Think you will at some point in your life undergo such treatments? Well, don't go for cheap, fly by night clinics coz you and your body are at risk!
To know more details about Contours Advanced Face and Body Sculpting Institute, please check out their website at www.rouradermsurgery.com, FB – @Contours.ph, Instagram – @contours_ph.
Hits: 753