Everscapes, a subsidiary group of Ever Gotesco Group of Companies develops Calle Bistro, the latest lifestyle strip in the area that aims to provide the ideal and distinct dining options poised to cater family and friends residing just minutes away from Ever Commonwealth mall. The Groundbreaking ceremony was held last March 17, 2017 headed by Mr Joel T. Go, Ever Malls President with other Ever Malls Executives like Ms. Cynthia T. Dizon, AVP Controlle, Mr. Ronelo M. Alvarez, Ever Malls AMOM, Ms Maura F Guiron , Ever Malls Leasing Manager, Ms Diana T. Huang, Ever Malls VP for Corporate Planning and other special guests. The community will soon feel the flavors at Calle Bistro as it soft opens in the last quarter of 2017.

(L-R) Engr Ramil Aburquez (Topway Builders Inc), Arch. Gabriel Vitales (DQA Design and Planning Inc), Cynthia T Dizon (Everscapes AVP Controller), Joel T Go (Everscapes President), QC Councilor Precious Hipolito-Castelo, Arch. Barnaby Kaw (Topway Builders Inc VP for Operations), Diana T Huang (Everscapes AVP for Corporate Planning), Maura F Guiron (Everscapes Leasing Manager), Ronelo M Alvarez (Asst. Mall Operations Manager for Ever Commonwealth).
Calle Bistro: Great Eats this way
A scene of a new stretch of choices; spices that soothe your senses; a sweet gathering for all ages; Great moments deserve great experiences. Indulge to Great Eats, this way to Calle Bistro.
Ever gives more dining and feast selections as we launch a mid-scale family dining zone that will captivate the heart of North Quezon City. The latest lifestyle strip in the area –Calle Bistro, is a vast panorama of classy food and beverage choices that will soon rise adjacent to the Ever Gotesco Commonwealth Center.
EVER COMMONWEALTH: The community's second Home.
For 23 years, Ever Commonwealth Center has been a provider of family's needs. It was part of the long-term vision of the company, which is to develop, conduct, and maintain affordable and accessible commercial shopping centers for the Filipino.
Ever Commonwealth Center resides in the midst of a neighborhood, rightly serving as the community's second home. With its concept of a comfort venue within minutes from home – family and friends come together for relaxation and recreation. The theme-park, castle-like architectural design evokes the feeling of fun and leisure, a kind of airiness ideal for pleasurable entertainment, shopping and dining experience.
"The Filipino lifestyles evolve and change. There will be new and exciting things beyond us, our loyal and most faithful neighbors will be offered options where they would pledge their loyalty anew," says Joel T. Go, Ever Malls President, who continues the legacy of the GO family- who pioneered the first one stop shop concept in the industry.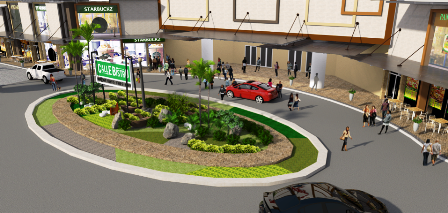 With this concept, Everscapes group was formed to make basic essentials and quality services accessible; enhancing the lives of everyone in the community and envision to become a prime mover in community innovation.
Go also added, "Some give in, but a generous number stays. Why? Because EVER is not just a shopping mall or a structure. We are a landscape of vibrant and growing community – employees and customers – that are engaged to provide great moments together and to offer something better than ever. EVER is your home."
Hits: 801