I'm an insomniac ever since I was in high school, abused my body and when I turned 35, started reaping the consequences. Two of those awful outcomes – dark circles and wrinkles. I hate, really hate it especially when I have asthma because no matter what concealer I use, can't hide the ugly truth! I turned to eye skin care for answers. Believe me, I've tried a lot of brands but only a few were able to slowly but effectively resolve my woes. Two of my current faves – Estee Lauder Advanced Night Repair Eye Creme & Eye Serum.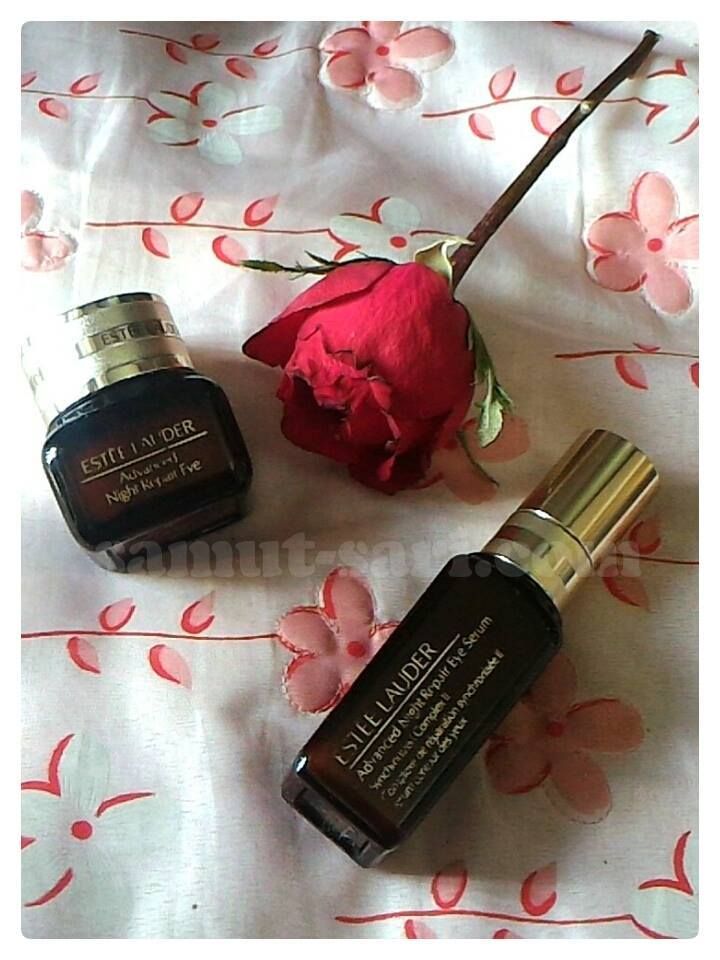 I forgot to take pictures of the bottles when they arrived, was so excited to use them so pardon the slightly fading details, lol. At least it's a sign that I'm truly using them.
Estee Lauder Advanced Night Repair Eye Creme & Eye Serum
These are part of the Advanced Night Repair (ANR) collection. The eye creme is a rich gel-creme while the serum is in liquid runny form, perfect for preventing/fighting inevitable signs of eye-aging such as wrinkles, dark circles, uneven skin tone, puffiness, fine lines and dryness.
A few months ago, I noticed crow's feet have started, I think I was trying to line a cat's eye before putting on mascara. That revelation made me sad but then I'm already in my late 40's so I guess it's but natural. But, hey! If it can be prevented by using Estee Lauder's ANR Eye, why not, right?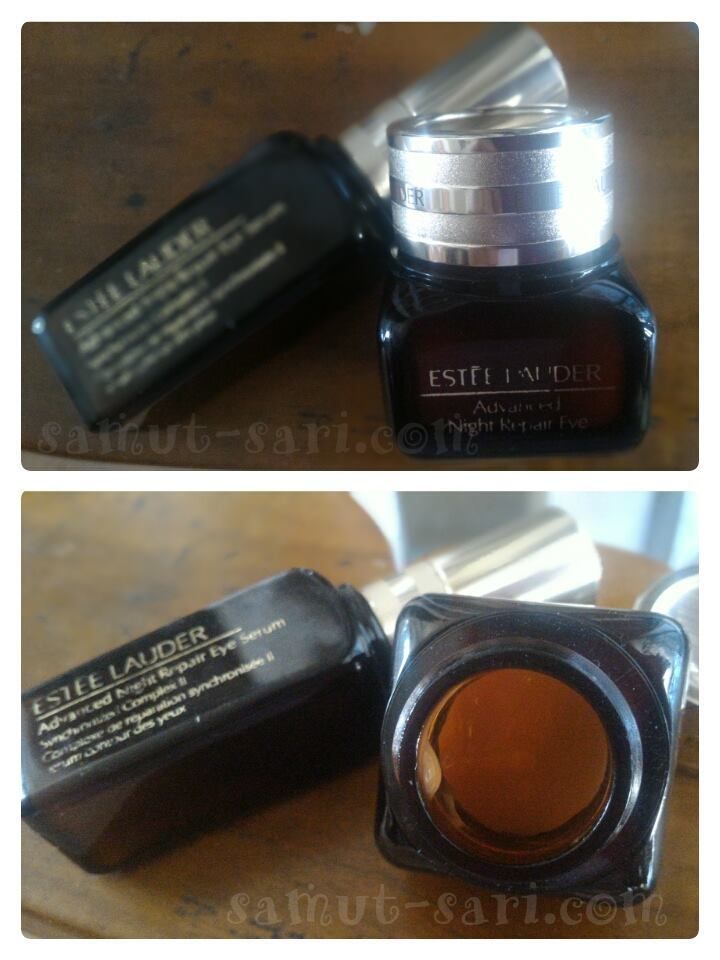 A few details you can read on the box. Both Estee Lauder Advanced Night Repair Eye Creme & Eye Serum basically have the same deets except that you have to USE the SERUM underneath or before the CREME. The EYE SERUM acts as booster for your desired eye creme, works best if you use the ANR EYE CREME after that of course but it can also be used alone.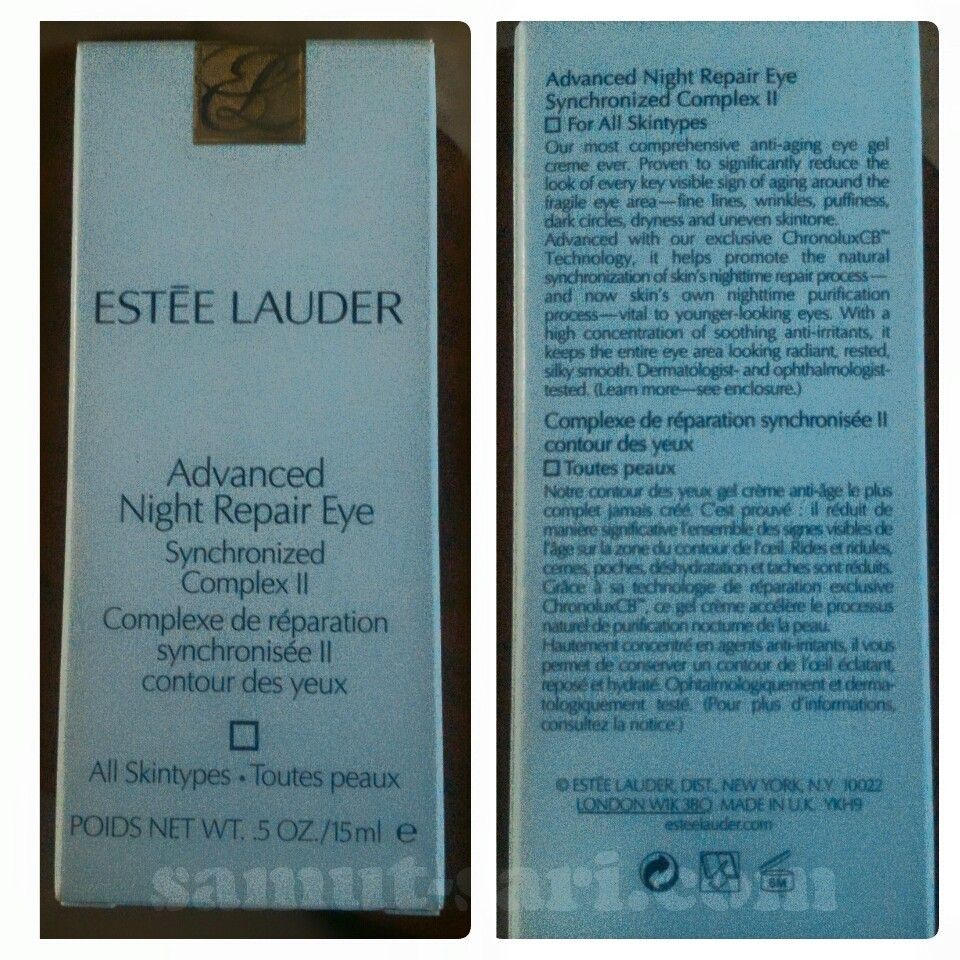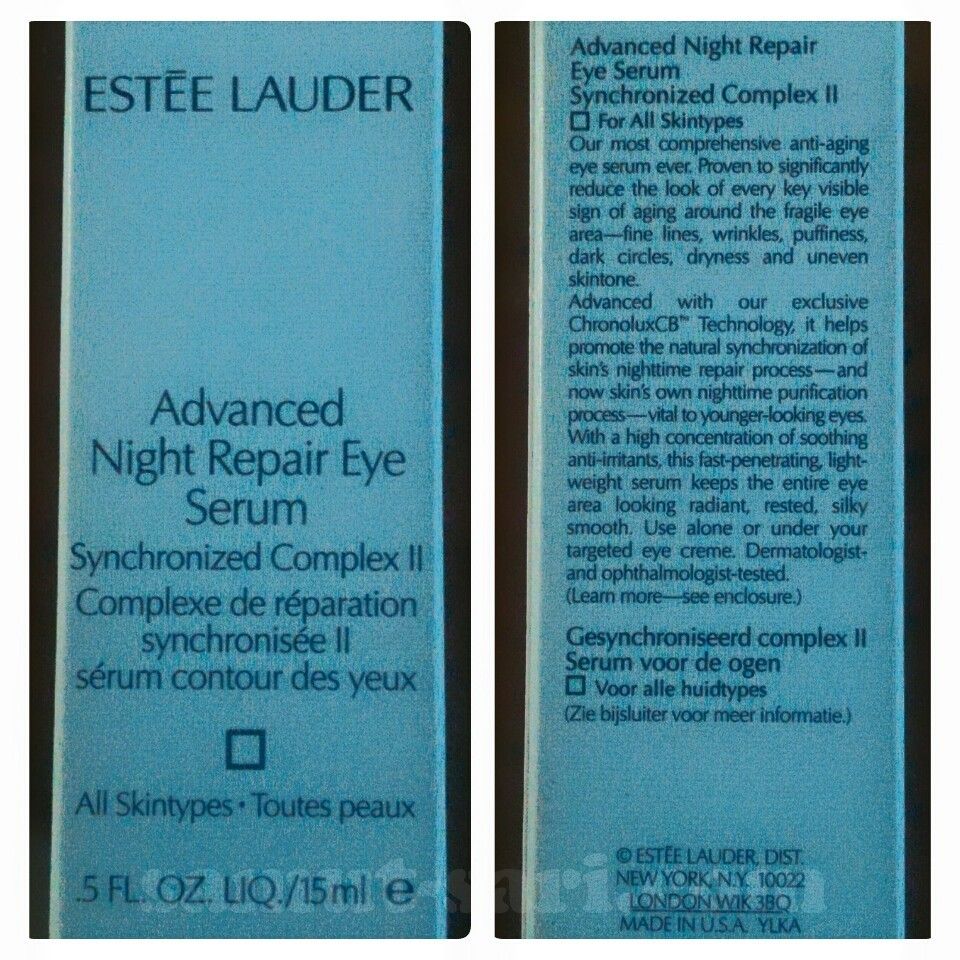 Here's how my eyes were prior to using ANR eye skin care. Note that my under eye were brownish, I call it "stained" because if you look at my eyes closely, you'd see patches of brownish stained skin and in some days even ugly orangey. Other people complain of bluish or violet under eye circles. See those fine lines and super tiny milia (bumps), gosh! Pardon my vanity, lol.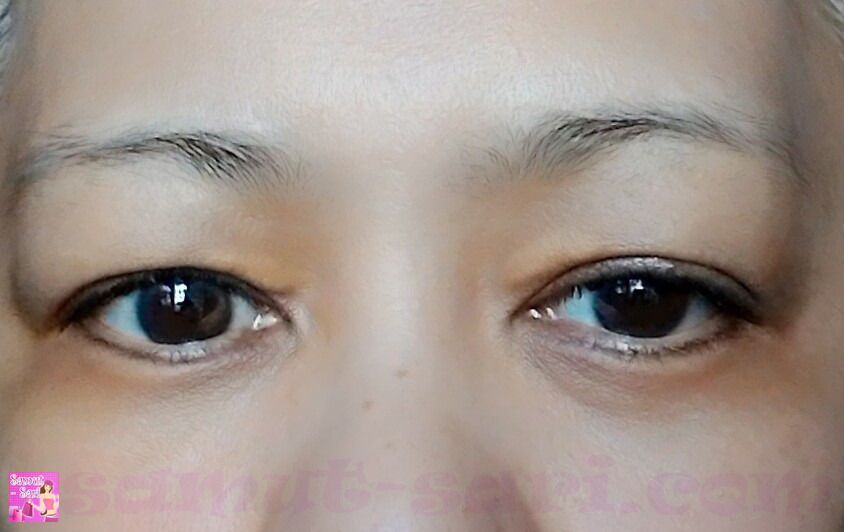 Been using it for about 3 months now. Both bottles will expire in 6 months once opened so better stick to it or waste money. Besides, you won't see quick results so continued use is a must. I use both day and night, except when I'm going out. I find them not blending well with my current eye concealer OR I just don't know how to blend hahahaha.
See, you only need a tiny pea size for the serum and creme. The creme just looks more than a pea size because I used my pinky to dip inside the jar instead of the included applicator.
Changes you'll see in the images below. You need to look long and hard to notice the difference. First image, you can see defined eye bags and under eye dark circles. Second image, diminished eye bags and skin tone around the eye area is evening out. Third image is the same as the larger one below. Don't forget the wrinkles and milia described in the first eye image above.
Here's a larger image taken yesterday morning. I was hoping I can finish this post last night but it's gotten longer than expected, so will be using yesterday's pic.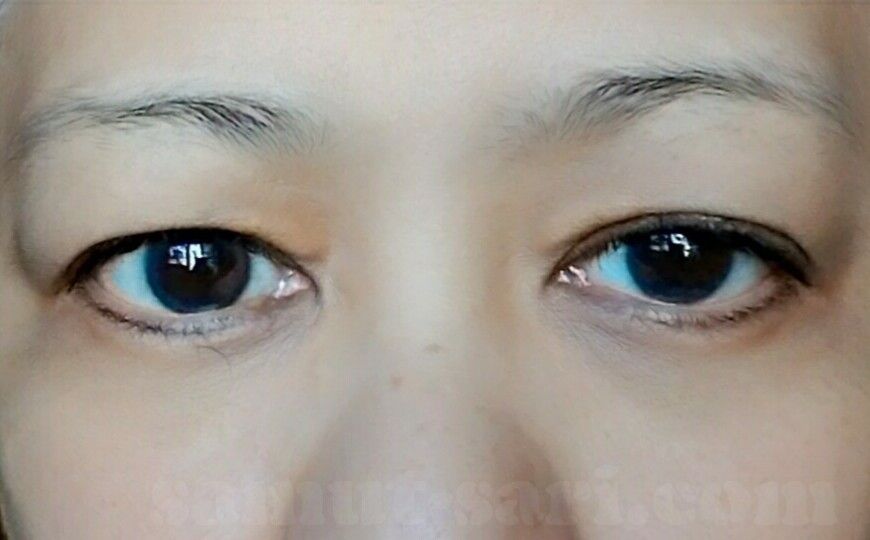 What I LIKE/LOVE about Estee Lauder Advanced Night Repair Eye Creme & Eye Serum:
Above every other reason, both highly effective! Just take a look at my current eye photo and you be the judge!
Can be used by All Skin Types, even sensitive ones!
Proven wrinkles, fine lines eraser and just recently discovered can prevent crow's feet or laugh lines too!
Diminishes puffy bags and keeps it from coming back.
Dryness, uneven skin tone and dark circles are being treated too. Feels so smooth, my eyes brighter and looking more alive!
The serum is a bit runny and since you only need a pea size for both eyes, this will last you for 6 months!
The creme is silky-like, feels a bit cold once it touches your eyes and that's a good thing actually coz it helps soothe tired eye area.
Both are so easy to apply! The serum dries out quickly, the creme a bit moist for quite a while.
I find it more effective to use the booster serum and then the creme. My problems diminished and barely there.
When I have asthma, I dunno why but sometimes the dark circles are back but minimal and can be covered by a concealer in case I need to go out.
Downsides:
The Price! Estee Lauder Advanced Night Repair Eye Creme 0.5 oz tub (1 size available only) is USD$58 + Tax OR Php3,600. While the Estee Lauder Advanced Night Repair Eye Serum 0.5 oz bottle is USD$65.00 + Tax or Php4,150. Much cheaper still if you buy it in the US even with tax.
With the pricing listed above, not practical to splurge if you don't have the budget. But if you're having problems with eye-ageing and want them treated, it still beats the price of cosmetic surgery or series of treatments.
Wish the expiration isn't just within 6 months after opening coz it's a really expensive product. But then might be that's because of the ingredients lasting powers.
I wanted to review these products a month after I got them. But I really wanna see the effectiveness and if can resolve my issues. Both are way expensive and I don't want your money wasted so I waited. Hope those who have the same dilemma will find this post very useful before plunging on buying.
Estee Lauder Philippines
Website: http://www.esteelauder.com.ph/
Facebook: https://www.facebook.com/EsteeLauderPH/
CARE TO SHARE YOUR VIEWS?
Hits: 1206