Babies can be fashion icons too! Yeah, well, when my kids were still babies, I bought them things that were in fashion like signature clothes, shoes, backpacks and even their cribs and high chairs were the "in" possessions at that time. Funny though those days, mommies like me needed to go out and shop at the nearest mall. Compared today, one can buy lots of things on the internet and if you're looking for high chairs online, just type the keyword/s in your browser's address bar and you'll be presented with lots of search results!
At that time, it was really hard to look for shops that distribute baby stuff that boasts of high-quality materials and of course comfy. But now, with just a click of your computer mouse, you can easily check different sites that offer the things you need for your little one.
I've recently surfed the net for a gift for my 1 year old godchild and I saw plenty of companies with pretty designs for high chairs. One site that stands out is Deals Direct as they have widest collection of quality high chairs and booster seats for your baby. They carry brands like Fisher Price, BrightStarts, Childcare just to name a few. I also browsed that Kokopax site. We loved the Kokopax Awesome Baby Hoodie and got one for my nephew.
Here are three samples from their site. I really like the designs and the simplicity but oozing with fashion in mind.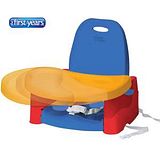 Who said babies can't sit on fashionable chairs like that? If I'm to choose between the three above, I'd definitely give a thumbs up on the second one. It's soft and it can be attached to a table so the baby can eat with his/her parents.
I know a lot of mommies who will love these booster seats. If you think a high chair is more appropriate for your kids, then go ahead and browse the Deals Direct site. I'm sure you'll find one that would be perfect for your kiddos!
Hits: 294