Those who love to drink German beer will have a feast at the upcoming Oktoberfest at Solaire. The German Club Manila will be celebrating it's 80th anniversary and partnered with Solaire Resort and Casino for Oktoberfest, promising the biggest and most authentic celebration to date.
The German Club Manila's Oktoberfest is the longest-running and largest Oktoberfest celebration in the Philippines. Solaire is the ideal partner to host German Club Manila's highly-anticipated event. Aside from Solaire's expertise in staging international and local events, it is also home to the country's finest bars and restaurants, which continue to provide impeccable culinary flavors and world-class service.
The three-day event will happen on October 4 – 6, 2018 (Thursday-Saturday) from 6pm to 2am, and will be held at the 2,400 sqm Solaire Oktoberfest Tent. Entrance to the Tent is located at The Gallery, ground floor of The Shoppes.
A grand showcase of German culture, Oktoberfest 2018 will feature free flow German beer, traditional Bavarian food prepared by Solaire's German chef – sausages, pretzels, schnitzel, and many more, a 12-man German band called Bavarian Sound Express will be flying in from Germany as well as a German host and waitresses. There will also be exciting Oktoberfest games and lucky draws.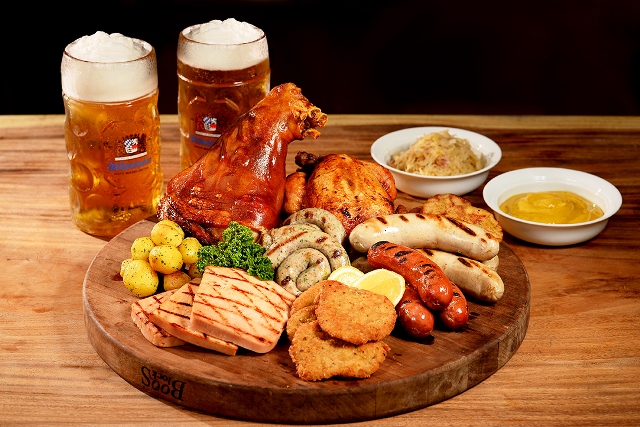 Over 25,000 liters of wheat beer and Oktoberfest beer from Weihenstephan, the world's oldest brewery, will be served during the event.
Dress code is smart casual or German traditional outfit (lederhosen or dirndl). Only 18 years old and above are allowed inside the Oktoberfest Tent.
Quotes from German Club and Solaire Resort:
"The German Club is a 112-year-old membership club in Manila, and this year, we are celebrating our biggest Oktoberfest yet. We are very delighted to continue this tradition in the Philippines and celebrate the occasion with our Filipino friends. We are pleased to have a new partner in Solaire." says German Club President Tobias Rast.
"As one of Manila's premier destinations, we only aim to give the best experiences to our guests. We are honored and thrilled to be hosting this year's Oktoberfest, and we want to make it even more memorable by ensuring that everything's authentic – the beers, the food, and the entertainment. It'll truly put the spotlight on the best of German culture." says Solaire VP for Food & Beverage Bastian Breuer.
Tickets
Ticket holders are entitled to a one-day entry and will be given a wristband based on their designated zone. They will also be given a German beer mug, which they can take home. Ticket holders can enjoy free flow German food and beer as well as snacks from the midnight buffet. (See appendix for pricing and zones)
• TicketWorld – www.ticketworld.com.ph Tickets from TicketWorld will be exchanged at the entrance for German Club tickets.
• German Club – Guests can buy tickets in their office located at 5F Penthouse, Eurovilla II Bldg., 118 V.A Rufino St., Legazpi Village, Makati City. You may reach them thru reservations@germanclub.ph or 818-4236.
• Solaire guests and Solaire Rewards members can also get tickets at Solaire Box Office/TicketWorld counter, which is open from 12noon to 9 pm daily.
• Tickets will also be available during the event.
Appendix: Pricing and zones
Hits: 444