I can count on my fingers the hair coloring brands that can REALLY cover my stubborn gray hair in just a few minutes after application. I don't know why, but my grays are tough to beat and lately, might be out of desperation, I've been thinking of having my hair bleached and all dyed in granny gray color. No, not all white, but medium to light grey instead, so that when my whites show up, it would look like highlights!
When Liese Philippines sent me a package of their newest Blaune line, honestly, I wasn't that excited. I've tried some of their Creamy Bubble Hair Colors in the past but my grays were not covered. Though I've read some reviews that say this line is effective, I wasn't that keen on applying it.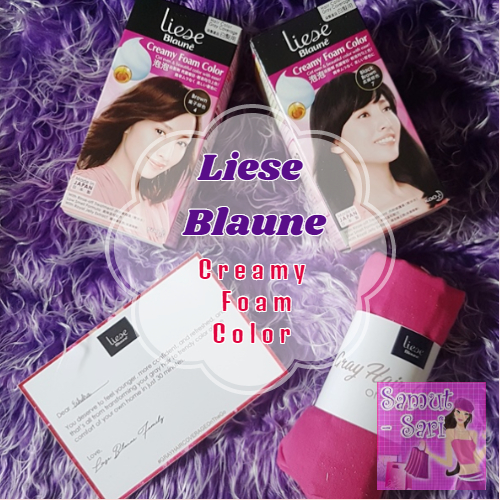 I was supposed to review the Liese Blaune Brown shade last December, but it's the holidays, so busy plus my hair was dyed in sorta purple, so I postponed. At last, I had the chance to try it this January and I don't mind changing into a darker shade this time.
The process of hair coloring is so simple – mix, squeeze the bottle to get the foam, apply to your whole hair, massage to evenly spread the color, then leave on.
My eldest son doesn't want to take a photo of me while my hair was all bubbly, my hands were dirty and messy, so here's the best shot I got, lol
When coloring, I usually start on the sides then work my way up. While coloring the top portion, I can see that Liese Blaune has already covered my gray hair that quick! Hurrah! I've found a new best friend! hahaha
Here are my before and after photos. I'm turning 49 this March and I inherited the curse of having gray hair at a really young age, started when I was 9 years old, so this is a wonderful discovery! It took me a lot of courage to post my before photo here coz I don't want people to see me with lotsa grays, so be kind to me, lol
Overall, in terms of covering gray hair, props up a 100% to this new line of Liese! I'll definitely buy some more stocks but I wanna try the Rose or Golden Brown next!
Thank you, Liese Philippines! You can check them out on Facebook – https://www.facebook.com/LiesePHL/ and find out your next hair color!
Hits: 1835