Singapore Airlines (SIA) is kicking off the New Year with another bang – the Showcase and Travel Fair 2018! If you continue on reading, you'll see that it's bigger and better so you'll get to "Experience the Best in Travel"!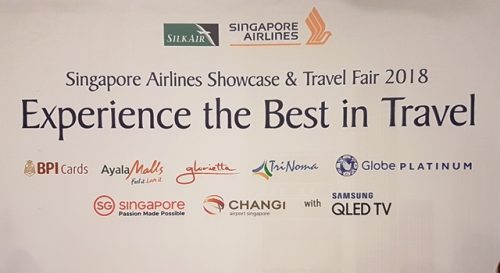 This time there will be two venues to hold the Singapore Airlines Showcase and Travel Fair 2018 simultaneously. People from the South can go to Glorietta and those from the North can check it out in Trinoma. It will be held from January 26 to 28, 2018 and you can expect attractive fare deals and exclusive privileges!
For Cebu customers, the fare deals and travel rewards will be available at the upcoming Cebu Travel Catalogue from 26 to 28 January 2018, followed by the SilkAir Travel Fair in Ayala Center Cebu from 2 to 4 February 2018. Davao customers can also enjoy the same promotional offers at the Davao Mega Travel Sale from 16 to 18 February 2018.
According to Balagopal Kunduvara, SIA General Manager-Philippines, the 70th anniversary year has been a massive success for the airline with a host of milestones, most notably the recent rollout of its new Airbus A380 cabin products. "The past year has seen Singapore Airlines continue to embellish its reputation as the leader in air travel and of course, we could not have done it without our Filipino patrons", says Kunduvara. "This Showcase and Travel Fair is a simple way for us to express our gratitude for the overwhelming support we have received over the years", added Kunduvara.
EXPLORE THE WORLD
The SIA Showcase and Travel Fair 2018 gives holiday hunters many reasons to start planning their trips for the whole of 2018 with 84 destinations to choose from at exceptional rates that come with free baggage allowance, delectable in-flight meals, a wide variety of in-flight entertainment, and accruable KrisFlyer Miles.
Achieve your travel goals for the year with all-inclusive round-trip Economy Class fares to Singapore from USD150 and other Asian destinations starting from USD220. Fares to Australia start from USD540, while key destinations in Europe start at just USD700. Customers can also travel to India at fares from USD490 or South Africa from USD700 and to the United States from just USD870.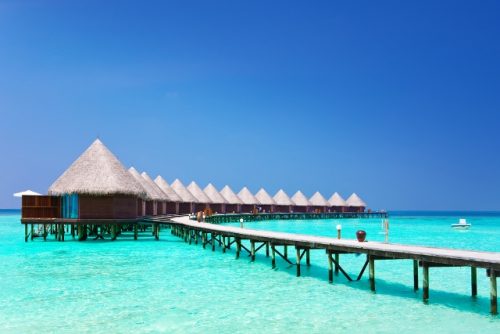 Leisure travelers who want extra comfort during their flights can also choose to experience SIA's newest cabin offering, the Premium Economy Class. All-in fares on Premium Economy Class to Asian destinations are available from USD970 to Australia from USD1020 to Europe from USD1400, and to South Africa from USD1550. A trip to New Zealand is offered from USD1550, and to the United States from USD1900.
More discerning customers who want to travel in luxury and style can avail of the exceptional all-in Business Class fares starting at USD690 all-in round-trip, passengers can fly Business Class to various Southeast Asian destinations, to South Africa from USD1900 and to Australia from USD1980. Discounted fares to Europe start from just USD2370 and New Zealand and the United States from USD2400.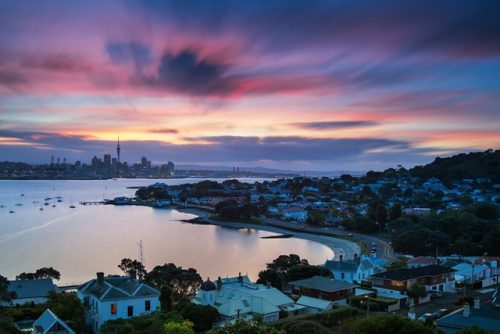 All promotional fares are exclusive to KrisFlyer members, BPI credit and prepaid cardholders, Globe Platinum customers as well as Glorietta, TriNoma and Ayala Center Cebu shoppers.
INDULGE IN A HOLISTIC TRAVEL EXPERIENCE
In addition to these exciting fares, customers can indulge in a wide range of exclusive deals such as Real 0% Installment Plan for up to 6 months for BPI credit cardholders, 500 KrisFlyer Bonus Miles when you book to select destinations, and an exclusive discount of up to 25% on select Sentosa Singapore attractions. Customers can also enjoy an SGD60 Changi Gift Card, for every two tickets booked to select destinations beyond Singapore, which can be redeemed at participating shops and restaurants at the Singapore Changi Airport. A complimentary SGD20 Changi Dollar Voucher is also valid for all itineraries beyond Singapore and in addition, Glorietta and TriNoma mall shoppers can earn a chance to win 50,000 KrisFlyer miles, which is equivalent to two (2) Economy Class round-trip tickets to Singapore.
Get more out of your SIA ticket while in Singapore with a Free Singapore Tour, available for customers with more than 5 hours layover in Singapore. From just USD45, you can also get one-time access to over 20 attractions with the Singapore Explorer Pass or enjoy a Singapore Stopover Holiday from USD38 that comes with hotel stay and access to over 15 attractions and more.
A GREAT WAY TO FLY
Continuing its promise of A Great Way to Fly with their customers' need in mind, SIA has unveiled during its 70th anniversary year, new A380 cabin products, new destinations, increased flight frequency and enhanced pricing structure to provide more flexibility and personalization for its travelers.
The New A380 Cabin Products
Travelers can look forward to the Airline's newly launched cabin products that recently debuted on flights to Sydney and will progressively be available on other A380 destinations. These new offerings guarantee the finest in luxury and service including a more exquisite in-flight dining experience, and an entertainment system that is more comprehensive than ever, more space and privacy in all classes, featuring intimate and bespoke elements designed especially for the Singapore Airlines customer.
New Destination, Increased Flight Frequency, and Expanded Network
As SIA officially added Stockholm as a second Scandinavian city in its route network with the inaugural flight on 30 May 2017, this year, SIA is boosting its offering by providing more travel possibilities with additional flights to Paris (ten flights per week from the current seven) until 24 March 2018. To meet growing travel demand, Cape Town will be served with a daily flight via Johannesburg, up from the current four flights per week, with effect from 26 March 2018. Get to discover more of Europe through SIA's expanded codeshare ties with Lufthansa and its subsidiaries, Austrian Airlines and Swiss, enhanced by the most recent codeshare agreement with Eurowings, giving travelers convenient access to 15 routes via Dusseldorf, Munich, and Manchester.
Pricing Made Flexible
Travelers get more flexibility with the introduction of Singapore Airlines and SilkAir's enhanced airfare pricing structure starting January. With the new structure, depending on the class of travel, customers will have up to three types of airfare to choose from when making a booking. Each will offer a combination of fare, feature and flexibility options including advance seat selection, baggage allowance, change, and refund, to provide distinct choices to customers to better fit their different travel needs.
Join us in the celebration at the Singapore Airlines' Showcase and Travel Fair 2018 and experience the best in travel this 26 to 28 January 2018 in Glorietta and Trinoma. Enjoy great deals, exclusive perks, and immerse yourself in interactive booths, powered by Samsung, and activity areas, meet travel experts as they share their travel hacks and enjoy a whole weekend of fun and surprises. Visit singaporeair.com and Singapore Airlines' Facebook page for the complete set of mechanics and guidelines, and for other exciting announcements.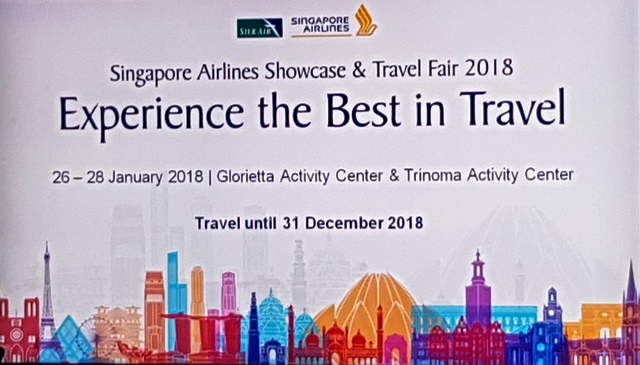 For inquiries, visit Singapore Airlines and SilkAir ticket offices, or call SIA Manila Reservations at 756-8888, SilkAir Cebu at 6332-505-7871, SilkAir Davao at 6382-227-5301, SilkAir Kalibo at 6336-500-7226. For details, visit singaporeair.com/FLYSQ2018.
SIA flies from Manila to Singapore four times daily, which conveniently connects to onward flights to the rest of the world. Passengers travelling from Cebu, Davao and Kalibo can fly to Singapore via SilkAir, which flies 13 times weekly from Cebu, 10 times weekly from Davao, and three times weekly from Kalibo.
Hits: 528