Just when you thought you're crawling back to the good ol' days, lo and behold, it's like 2020 all over again. Good thing, health essentials that can keep you and your loved ones extra protected are now more accessible, like the Cherry Home Smart Air Purifier Max SAP 1000.
How exactly is it going to do its job, you ask? This COVID-killing device is equipped with 2-Layer Medical Grade Filters (Honeycomb Active Carbon & Anti-Virus H13 HEPA Filter), outfitted with an H13 HEPA Grade Filter that filtrates SARS-COV2 and other viruses measuring less than 0.010 microns. It also has a Primary Filter that removes dust from the air, De-formaldehyde Particulate Matter which strains droplets, Activated Carbon which filters out bacteria, and Negative Ion Release which produces healthy anions responsible for preventing colds, flu, hay fever, and asthma.
On top of that, it has been tested and approved by international research organizations, including the renowned MRIGlobal Technological and Scientific Research, to kill 99% of SARS-COV2 (COVID) and other airborne viruses lurking in a 72sqm space. It likewise boasts of 99.98% PM 2.5 purification rate and Clean Air Delivery Rate (CADR) of 600m3/h or in other words—maximum protection.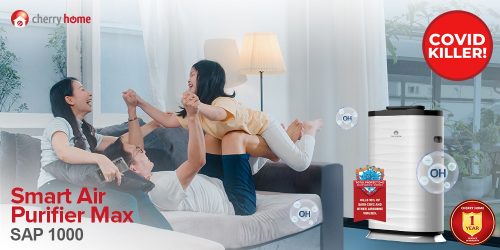 Already gape-mouthed? There's more. The Smart Air Purifier Max SAP 1000 is not only handy when it comes to safety but is also on the convenient side as it can be controlled through your smartphone via the Cherry Home application. If you're a tad bit old-school, no need to worry. You may still operate this through its control panel and remote control. For houses with kids, this essential is equipped with child lock and lid off features making it perfect for your household. Enjoy all these for P14,500.
CHERRY ION
If you have to go out for work and do outdoor errands from time to time, another recommended essential from the brand is the Cherry Ion. This personal wearable air purifier can be your added protection from bacteria, viruses, pollen, smoke, molds, and dust mites in the air as it emits up to 200 million/cm3 negative ions (healthy anions). It can also help you avoid colds, flu, hay fever, and asthma for as long as 12 hours. Fashion doesn't have to be at the expense of extra protection and the brand totes get you as you can cop this device in various colors and designs starting from P2,299.

When it comes to safety, especially at this time, don't dilly-dally for too long. Get your CHERRY health essentials now at: 
Cherry Shop PH: www.cherryshop.com.ph
Hits: 56