I'm always on the look out for new skin care products that won't put a hole in my wallet. I've posted reviews of high-end skin care lines before and though very effective, I'd rather go for really affordable ones yet will give me the same positive results. And I'm so happy that I got introduced to MOSP Philippines at an exclusive event almost a month ago! I was given their skin care line to test and note that I religiously applied their products, stopped using anything else even my facial serums/oils and eye cremes, so I can give you my in-depth and honest review.
To give you a brief background, MOSP is pronounced as "\mo.sip\" which means "beauty from within". It's a Korean skin care brand by Hanacos Co., Limited, a company well known for developing, manufacturing and selling other popular skincare and beauty brands in our local markets such as Etude House, Tony Moly, Missha, Holika Holika and The Face Shop to name a few. ONE PHARMA COMPANY, Inc. brought MOSP here in the Philippines 3 years ago and has recently relaunched for their new packaging as seen in above photo.
As mentioned, we were given full-size products of MOSP Skin Care and Maquillage. I chose to try, of course, their skin care line but in old packaging as shown below.
Got these babies on August 12, the first application of all three products (Face Dirt Remover & Pore Cleanser, Dreamed Booster Toner and Essential Dew Serum and Emulsion) that same night and continued to use as my ONLY basic skin care day and night for 3 whole weeks.
*Note: I'm already 48, started skin care regimen around the mid-30s.
Face Dirt Remover & Pore Cleanser (New Packaging) Php680 (120g)
INGREDIENTS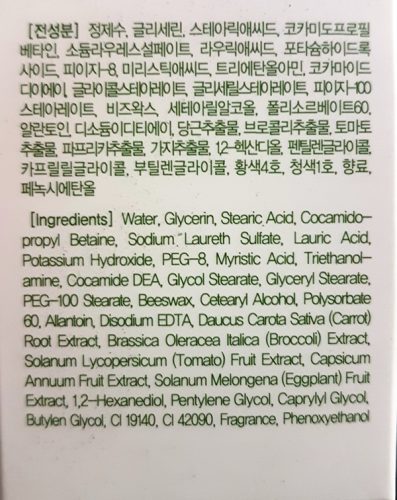 OBSERVATIONS:
– smells really good
– not too foamy
– no harsh feeling while washing
– no itchy feel
– my face feels smooth and soft after every wash
– non-greasy
– removes makeup easily even lipstick though I haven't tried with mascara on because I don't like it
– no breakout
– skin not squeaky or doesn't feel tight after washing.
When your cleanser does the last part, it only means your skin hasn't retained enough or has been stripped of most of its moisture thus becomes dry or dehydrated and will ultimately lead to fine lines, wrinkles and premature aging. So, better to use the right cleanser for your skin type because it's your first line of defense against skin aging.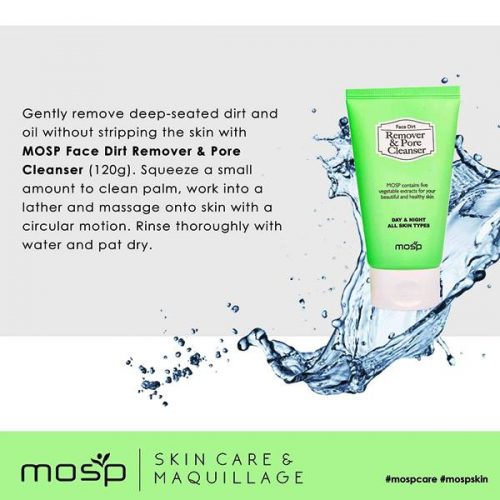 Skin Brightening Dreamed Booster (New Packaging) Php900 (150ml)
INGREDIENTS
OBSERVATIONS:
– smells really good (all 3, in fact, have that same distinct smell I can't quite put my finger on, lol)
– runny/watery consistency
– easy to apply, you can even just pat it on your face. I do this when I'm just at home the whole day. When you sometimes pat with the palm of your hand and not always rub, it lessens the impact on your skin thus preventing further sagging.
If I went out, I pour it on a cotton to remove excess makeup, though surprisingly or it may be because I don't wear too much makeup, that the cotton wasn't really dirty. So, the cleanser does its job well in washing away dirt and makeup!
– no itchy feel, non-drying, non-greasy
– skin feels refreshed
– no breakout
– it does minimize pores and makes skin bounce back which means the five vegetable extract ingredients are working overtime and perfectly on my 48-year old skin, lol
Later, I'll show you the amazing difference on my face in such a short time. No kidding, just my honest review 🙂
Skin Brightening Essential Dew (New Packaging) Php922 (150ml)
INGREDIENTS
OBSERVATIONS:
– it's not creamy, more like the morning dew drop of a plant but not watery. It has soft, thick, sap of a plant consistency
– use two fingers to gently tap it on your face and it will be easily absorbed. This will also lessen too much contact/disruption on your skin. Do not rub!
– use just the proper amount to cover your face and neck. Since it has thick consistency, a coin size amount may be enough
– non-sticky, non-greasy, non-drying
– leaves skin soft to touch
– no breakout
Each MOSP Skincare has these 5 vital Vegetable Ingredients:
Tomato Extract for inhibition of skin sagging
Carrot Extract for soft and healthy skin
Yellow Paprika Extract for anti-skin trouble and clean skin
Broccoli Extract for skin soothing and skin metabolism
Eggplant Extract for nutrient supply and satiny skin, prevention of freckles
My nightly skin care regimen usually ends with a moisturizer to lock in the products and the moisture, and especially if I used a serum. But after applying this Essential Dew which is a combination of a serum and emulsion, I omitted the moisturizer as it also acted as one.
My daytime regimen, however, needed a moisturizer even if I don't go out. The heat inside the house alone is killing me more so when I go out. Since the media kit included a sample of the CC Cream and the Moisture Balm, I alternately used them whether I go out or not. But, that's for another review post of the MOSP Maquillage line.
I haven't noticed that this post is long already, lol. Well, that happens when I really like the products and to like means it must be effective on me. So, thanks for reading this far 🙂
Anyway, I posted this status on Facebook because I got really excited at the amazing and fast results in just a few days of use, 4 days to be exact.
Examine these photos below and spot the difference.
Photo was taken August 12 at the MOSP Philippines event. Selfie cam used. No filter. No Beautification.
The photo above showed fine lines on my forehead and enlarged pores on my nose and forehead too. I was wearing foundation and my face was oily and foundie wasn't able to hide the lines and pores.
MOSP Philippines Skin Care Photo After 4 Days. Click to enlarge. Selfie cam used. No filter. No Beautification.
The photo above was after only 4 days of using the MOSP Philippines Skincare. I don't have makeup on, was taken when I woke up and washed my face with the cleanser. Note that fine lines on my forehead were hardly visible and the pores on my nose had been minimized. Though, take a look at the red circle on my left cheek, still had enlarged pores. Click photo to enlarge and see the pores.
Last September 4th, I needed to try another client's new whitening facial treatment, so I had to take a final shot of my face and see if there's more improvement after using the MOSP Philippines Skincare for 3 weeks. I attended an event that morning thus wearing a light makeup.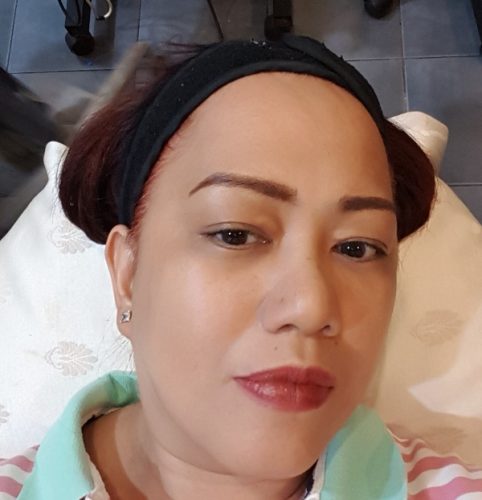 Photo wearing makeup before cleansing
My face had to be cleansed first before the treatment, so here's my last photo after cleansing. Only my lips were left untouched.
MOSP Philippines Skincare Photo After 3 Weeks. Selfie cam used. No filter. No Beautification.
The large pores on my left cheek were back to its normal state. You can hardly see the fine lines on my forehead and actually, no enlarged pores anywhere! Notice too that my face seemed brighter and cleaner.
Amazing, right? I've used several Korean skin care products before, in fact, I still have an unopened stash of those, and yet this is my very first Korean line that dramatically improved my skin!
Now, I hope they import their other skin care products and manufacture one which will target the eye area problems such as wrinkles, fine lines, crows feet and dark circles coz I'm definitely buying those!
Ok, there you go, my full and honest review of the MOSP Philippines Skincare line. If you're a frequent reader, you'd definitely know if I like a product, coz the post is this long, lol..
You can see the brand and products' full details on MOSP Philippines Facebook page here – @MOSPph. To order, just PM them on their FB page, or at BeautyMNL – https://beautymnl.com/brands/mosp.
Disclaimer: When I post reviews, I always say, try the products at your own risk. What works for me, might not work for you, so manage your expectations. The above-mentioned products were given to me for review. All opinions are 100% mine.
Hits: 2864