Women are expected to play dual roles at all times: a leader in the workplace and a hands-on mom; a good daughter and partner; an expert in her line of work and a multi-faceted performer. For all the things that a woman wishes to be, she has to live through society's expectations, working twice as hard so she can double up her function.
Olay partners with Lazada in its biggest Super Brand Day event with a release of its latest online video focused on how single moms double up twice as much. This video reveals that one of the toughest roles women take on is parenting, especially when done all by yourself.
At first glance, we see a struggling mother barely getting by, facing judgment for the life she needs to live, but what we don't realize is that these moms set a powerful example to their kids and to those around them. We see a woman that is fearless, someone who is confident and determined. She does not let anyone make decisions for herself – she runs the show.
OLAY x LAZADA Supporting Women who Double up
Olay reaches out to every single mother to value self-care, allowing them to double up with less effort. These are for the women who work twice as much and still radiate a different kind of beauty, a beauty that exceeds beyond their struggles. She is able to Glow Up beyond supreme challenges, and her partner: The Olay Power Duo – Olay Regenerist Micro-Sculpting Cream and Olay White Radiance Light Perfecting Essence.
"Doubling up as a parent and a professional is no easy task," says Alexandra Vogler, Associate Director of Procter & Gamble Beauty, Digital Transformation & Communications and mother of 2 young children. "By sharing the touching story featured in the Olay Monster film, we hope to inspire more people to see doubling up on responsibilities as a strength—and ultimately for women to live their lives fearlessly."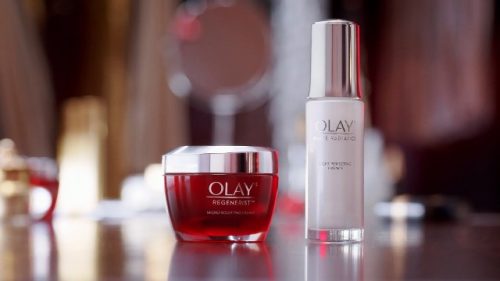 As these brands continue their efforts in inspiring women, this collaboration between Olay and Lazada provides a platform to help women gain easy access to products to complete a full skincare routine at their convenience. So, whether they are at work, at the gym, or winding down with their children in bed, this Lazada partnership equips mothers who double up their role with the Power Duo that also works twice as hard as them. 
Olay x Lazada supports single moms and all fearless women who know how to double up.
Let's celebrate during the Super Brand Day on October 7, 2019, with amazing deals from Olay and join the conversations on how single moms lift each other up. This film is made for women by women. Women of P&G, Lazada, and the agency all took part in conceptualization, production, and execution of the video.
Hits: 188