Loving Carmex for a few months now and the result on my used to be uber dry lips is amazing! A friend suggested that I try it because she saw how my lips suffered during the summer season. With the heat coupled with getting sick which turned to severe dehydration, it looked like a cracked heel! So, when I got better, fully hydrated, I purchased a Carmex Lip Balm and tried it on one night.
But first, here's the packaging – small but definitely powerful!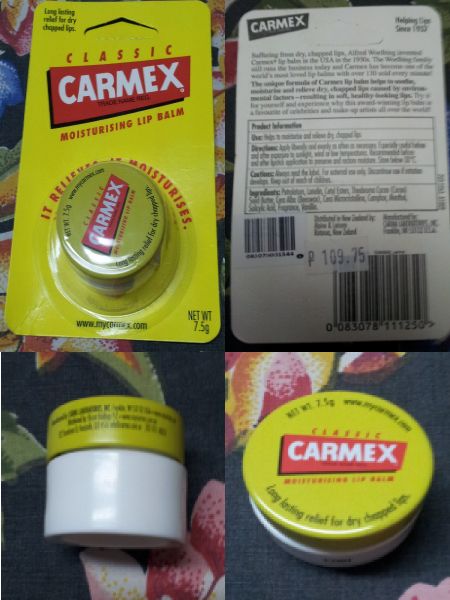 The whole family were in Alabang Town Center one day to shop, dine and watch.. nah, it was my birthday, lol. Of course, a celebration was in order, and I also took the chance to shop for my fave products. Went to a fave shop, used to be PCX and luckily found Carmex. It was out of stock the first time I looked for it, guess, it sold out like hot cakes.
Okay, let's get on with the review. That night, though tired and sleepy, I, of course, tried it on. I can't sleep one more night and wake up with chapped lips! lol.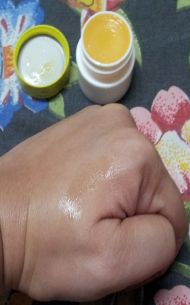 As with any other product, I did a skin test first. I'm kinda allergic to some things and I don't wanna go into Anaphylactic shock for not testing products first. It's just a common practice, and I would like to find out and tell my readers also if it's safe for those with allergic reactions.
Anyway, here's my lips BEFORE I applied it:
Here's the after effect of Carmex Lip Balm on my lips. Note that your lips' shape may differ from mine hehehehe.
Before application:
My lips were pale
You can see some lines
There were traces of white loose skin on the lower lip
After Application:
A bit of redness can be seen.
Lines disappeared and lips became soft
Looked moistened and not dry
Observations:
Carmex looks like it's oily and greasy but I assure you, it's not.
The colour is transparent once you put it on though you can see in the small can that it's yellowish.
A hint of minty cool freshness can be felt just a few seconds later.
I see my lips redden a bit, maybe a reaction from the minty feel but nothing to be alarmed about coz I didn't feel any sting or itchiness
A few minutes more and it seems you are just wearing a lip gloss and with a fully kissable lips!
Conclusion:
If you don't believe it could happen to your lips or you are suffering from dry chapped lips, then try Carmex Lip Balm. I bought mine for only P109.75 or $2.75 (x Php40). The stick version costs the same, so I opted for this. Don't be deceived by it's small size. Mine could last for several more months considering I use it 2x a day everyday. Hubby loves to kiss me more often now, lol. If you are a smoker and your lips darkened overtime, this is a must in your pocket!
Planning on giving Carmex as gifts to my girl friends. I just gotta find the time to go back to ATC and purchase some more! I'm sure they'd be thrilled to see the result! Go ahead and try it!
Hits: 1179