I'm sure all of us have heard of Starbucks. Heck, my teenage son even requested for a Caramel Frappe one time. Well,  Starbucks is known for great tasting coffee mixes and I give them a 10 for all the effort to come up with something new.
It's their 40th birthday and I'm sure you're wondering now why the heck isn't this posted in my food blog? That's because it's not about the coffee!
Since it's their anniversary, they've asked some fashion designers to make them commemorative t-shirts. One piece I saw is an $85 shirt that has nothing on but spilt coffee as the design!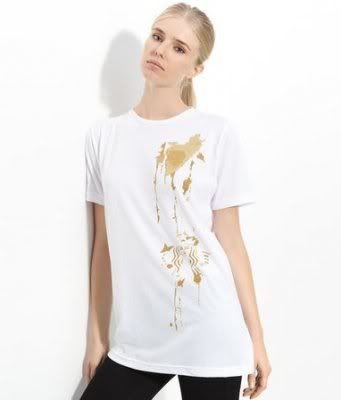 Photo: Nordstrom
The T-shirt is made by Alexander Wang  for Starbucks' 40th Anniversary. The thing is, and this is just my opinion – nothing's so awesome about the shirt. It doesn't even signify that it's a Starbucks memorabilia, well, unless you buy it directly from them, then you'd know it's their shirt. It's just like you accidentally spilled your coffee on your white shirt then decided to just draw a lady figure at the bottom, since you can't do anything but throw it after.
For those with exceptional eye and love for anything abstract, they may be able to appreciate it. But for a mom like me, spilled coffee remains spilled coffee. Why would I buy a shirt, not specifically the Starbucks' shirt, for a whooping $85?! No offense, but during times like these, I could go without a shirt if that would cost me that much!
On a lighter note, I love Starbucks and I admit, there are times I crave for my fave coffee frappe. So, Happy Anniversary and I hope you'd get to concoct something new for us all. 🙂
Hits: 216