If you live in a country with very cool climate, summer is virtually unfelt. Even if the sun is shining way up in the sky, the wind still has the tendency to be chilly in such places. Thus, your summer clothes are often rendered useless. But does that mean you have to wear your winter clothing all year long? Not quite, actually. You can always wear the kind of clothes that are warm yet comfortable to wear even during the not-so-cold season.
Yes, you can rest assured that your thick winter jackets and sweaters stay quietly tucked in their respective areas in your closet. So what would you wear during those summer days when the weather decides to be a bit chillier than necessary? The solution is thermal clothing, preferably Grade 1. Grade 1 thermal clothing is most suitable during those summer days when your skin feels that distinct bite of cold.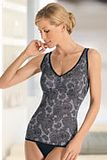 Photo: Damart
You can always find the right kind of warm clothing online. All you need to do is be very keen in spelling out what it is you really want. No matter if it is sleep wear you are looking for or what you need is something you can wear on your next getaway, you'll find the perfect warm clothing in most online shops that's most suitable for you and the weather condition where you live.
Hits: 2344