I love going to art and furniture shows because it was my childhood dream to become an artist. I used to paint and do makeshift furniture for my dollhouse and later on, for my own room, but all that talent had to take a back seat when I went to college. These days, whenever I attend such events, I get all inspired to renovate our house hahaha. Anyway, there is another furniture show coming up starting March 8-10 and this is something you shouldn't miss because the designs I saw are really creative, export-quality and world-class!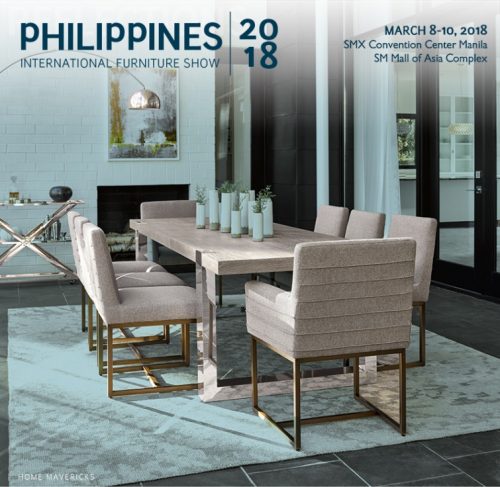 The Philippines International Furniture Show (known to some simply as PIFS) is one of Southeast Asia's premier trade fairs, offering an extensive range of furniture products, accessories, and décor. It is jointly organized by the Cebu Furniture Industries Foundation Inc. (CFIF), the Chamber of Furniture Industries of the Philippines (CFIP), and the Pampanga Furniture Industries Foundation (PFIF) and will be held on March 8 to 10 at the SMX Convention Center Manila, Mall of Asia Complex. Visitors are encouraged to register online at www.pifs.ph to get a free 1-day pass.
"We see PIFS as the ultimate collaboration of Filipino Collection. It is where we show the world the ingenuity of our local manufacturers and designers, how we interpret the latest industry trends, and in many cases, take the lead in design innovation," said Eduardo Zuluaga, overall event chairman of Philippines International Furniture Show and President of Chamber of Furniture Industries of the Philippines.
Keeping true to its form as the "Milan of Asia", the Philippines has a strong reputation for originality and new, often groundbreaking, interpretation. That's why PIFS continues to attract buyers who want to see first-hand what Filipino design and craftsmanship has to offer. They come from countries as far as the United States of America, Singapore, Japan, Malaysia, United Arab Emirates, China, Australia, Saudi Arabia, France, Germany, and India.
"This year, we decided on portraying different kinds of lifestyles with our featured furniture pieces, furnishings, and fixtures," says Ina Gaston, Event Chair for the Cebu Furniture Industries Foundation Inc. "And that's how we came up with this year's theme of Reflections. Every day, each person we interact with, every place we go to, the pieces define the lifestyle and way of living," Gaston adds. Philippines International Furniture Show proves to be the ultimate furniture lifestyle event fit for all design and furniture enthusiasts.
As a show feature, PIFS will bring light to one of the most respected hardwood artists and furniture designer in the country. Osmundo Esguerra, a self-made furniture maker, has made a name for himself by having a distinct style and approach in handling indigenous wood. His crafts reflect his natural creativity and ingenuity, celebrating the true Filipino craftsmanship. In commemoration of his artistry, PIFS will be doing a special tribute to showcase a number of pieces by Esguerra during the show.
CALFURN BORDEAUX SLIPPER CHAIR – Calfurn Manufacturing Phils
Some of the returning exhibitors who will feature their latest creations at the show include Aerostone Inc., Azcor, Betis Crafts Inc., Calfurn Manufacturing Phils., Inc., Cancio Contract Furniture, Carpetworld Manufacturing Corporation, Cmc Lighting De Arte Inc., Coast Pacific Mfg. Corp., E. Murio Inc., Fashion Interiors Furniture Philippines Inc., Feliix, Inc., Filipino Creazione De Mano, Inc., Furniture Doctor Trading, Hacienda Crafts Company, Inc., Home Mavericks, Inc., Jb Woodcraft, Inc., Spring Artisanal Furnishings (Trading As Liza Tazewell Designs), Mehitabel Inc., Multiflex RNC Philippines Inc., Natures Legacy Eximport, Inc., Obra Cebuana, Inc., Ohmm Furniture Mfg. Inc., Pacific Traders & Manufacturing Corporation, Philiana Design, South Sea Veneer Corporation, Stonesets International, Testex Swiss Textile Ltd., Tumandok Crafts Industries, Venzon Lighting Manufacturing, Vito Selma, Weave Manila, Inc., and Wood Classics Enterprise.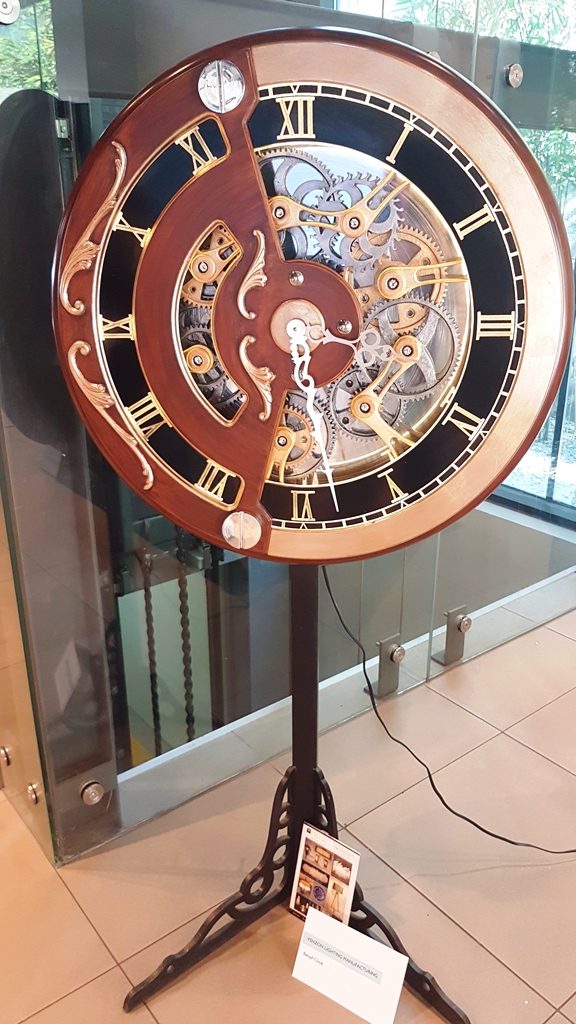 BEHALF CLOCK IN GUN METAL FINISH – Venzon Lighting Manufacturing
Branded as the ultimate design event, PIFS will once again be held alongside the Interior & Design Manila, the most sought-after event for architects, interior designers and design enthusiasts. Stimulating and interactive activities are conducted for young professionals namely Interior Design Plus, Interior Design Excellence Award Pavilion and the Continuing Professional Development (CPD) Conference where known personalities in the industry, local and international, are invited to share knowledge on their field of expertise.
Last year, PIFS reached another record-breaking 11,453 in visitor count and 40% of which were trade buyers from 32 different countries across the world.
For more information about the show, visit their website and pre-register at www.pifs.ph and follow us on Facebook, Instagram and Twitter: @PIFS_Manila.
Hits: 414