I'm not that choosy when it comes to salons. I'll try different ones, popular or not so I can compare services and prices. But you'll definitely know that I really enjoyed my overall experience if you see my face there again hahaha…
I've been to Mary Pauline Starmall Las Piñas branch several times this year, so I guess, its one of those few on my list of faves. Not only their branch just outside my village and very accessible but what attracted me in the first place – they've got super affordable services! Mind you, though budget-friendly, they only use high quality products.
So, when I got an invitation to test drive the services for their newest branch in Taguig before opening it to public as well as to promote their re-branding from Mary Pauline to The Beauty Lounge by Bianca Festejo, I didn't hesitate of course.
First stop was an assessment of my hair condition by none other than one of their senior stylists, Jill. She handled me before at the first branch so practically knew what to do with my hair. It was really bad, dry, brittle and uber chemically damaged. Though I had it full head bleached 5 years ago, I had to continue dyeing coz of grey hair. I also don't have it keratin treated that often coz of my busy sched so just imagine how horrific my hair was.
You see, this was the state of my not so happy tresses prior to the hair makeover..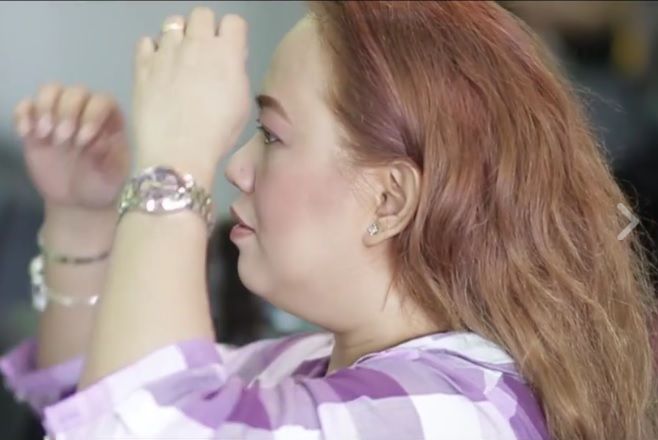 Frizzy and split-ends were a huge problem and gosh multi-coloured hair! So ugly when you see my hair in person, hahahaha..
So, first step was to color it in just one shade lol. I chose the ashy blonde combination to at least even out the color. I was kinda hesitant to use their own hair dye at first coz I haven't used one with ammonia for years. I even brought my own hair dye just in case. That's what I always do whenever I go to any salon, bring my own. I don't like adding more chemicals onto my hair, that's why.
But, the senior stylist assured me that their brand won't do any further damage, in fact, add more protection to my tresses and give it more vibrance and softness. Thus, I conceded.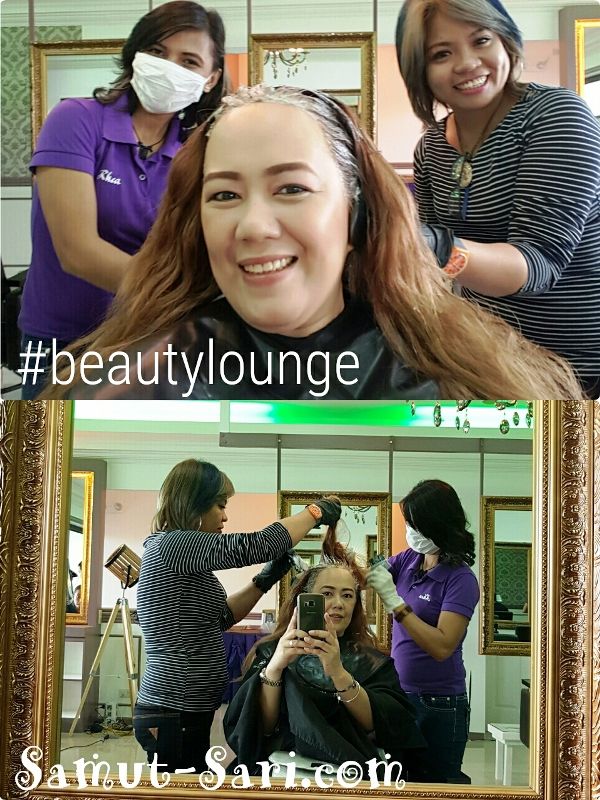 When they've already applied the color to my whole hair, and while we waited for at least less than an hour, I didn't even get any tingling, itchy sensation. In fact, it was kinda cool and no teary eyes. They explained that harsh chemicals can give you that but since their products have NO Paraben, Sulphate and Formaldehyde, it's entirely safe.
Next, after washing the excess color away, they started the first step of the Keratin Blowout Treatment. Below are the products they used – AlfaParf Milano Keratin Therapy Shampoo, Smoothing Fluid, Detangling Cream and Rehydrating Mask
Now, I've had several Keratin Blowout treatments before in other salons and as I remembered, I hated the process because not only was it so itchy on the scalp, I had several asthma attacks after. The chemicals were so strong, even if I used a mask, it still penetrated and went into my nostrils. Thus, I vowed to never do it again, lol.
So, before I agreed to the Keratin Blowout Treatment, I checked the labels of the AlfaParf Milano brand and the senior stylist assured me again that it's perfectly alright and wouldn't add any harm to my hair and yes, lungs. Since she told the truth about the hair dye that they've applied onto my hair and didn't feel anything I disliked, I trusted her. And all went well, actually. A total relief!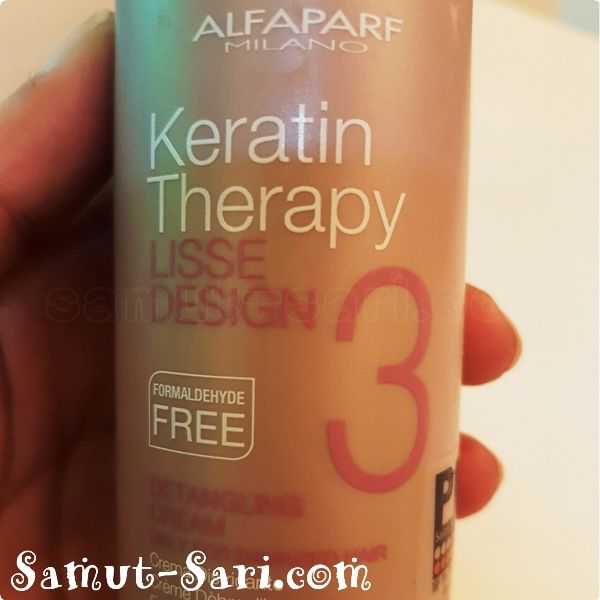 After waiting for a few more minutes for the last treatment to sink in deep into my hair follicles, they started the process of ironing my hair. This will allow for all 4 treatments to be locked inside each strand.
You know, I hate stylists ironing my hair because most of them doesn't even care if it hurts on the scalp, they tend to ignore that they're already pulling your whole head and neck in all sorts of directions plus burn a few strands. I was glad that I didn't get a headache when Jill, the senior stylist and Rhea, her assistant quickly finished the process. It was done smoothly, no neck-breaking, no burning and they even asked me frequently if I was okay or did it hurt. I liked that! Actually, they were even like that when they handled me in the other branch and the owner wasn't even there. So, it must be their true nature, hahahaha.
Anyway, here's the finished look. I loved it! Though the stylist said that the treatment needs to be repeated several times more to bring back the life and shine into my crowning glory. But then, I was uber satisfied and will definitely come back soonest!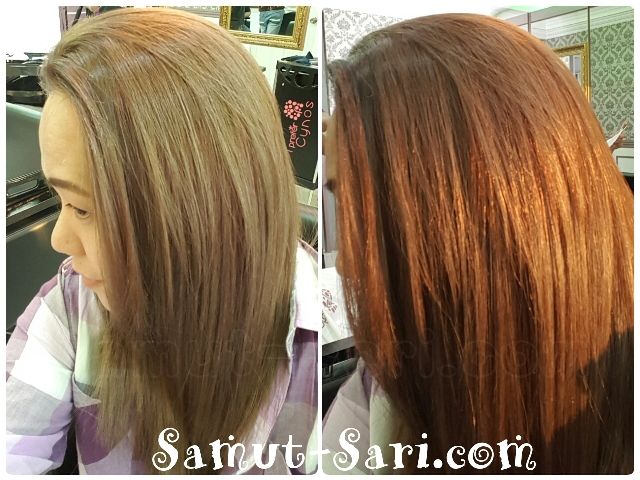 First photo was taken under in-house light and the second was when the sun shone bright on my hair. Lovely and I was so happy!
Here's a frontal view of me together with the owner, Ms. Bianca Festejo. They all said straight hair suits me well, but I know that once I wet my head, it will all go back to curls. But not so much curly anymore coz the treatment can straighten hair by at least 15%. This wasn't a rebond, and I can't have that done on me yet coz of the severity of the damage. My hair needs to "heal" first. Besides, rebond procedures these days are not that toxic anymore. So, maybe next year, hahaha..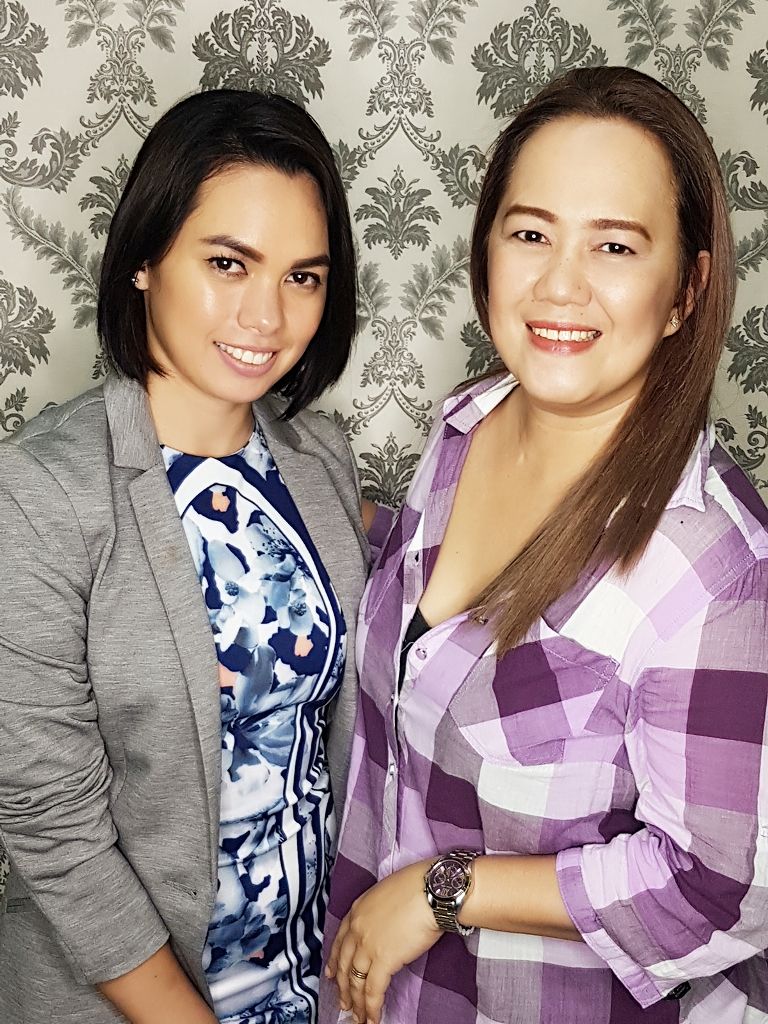 After care is needed so I went home with these hair care solutions: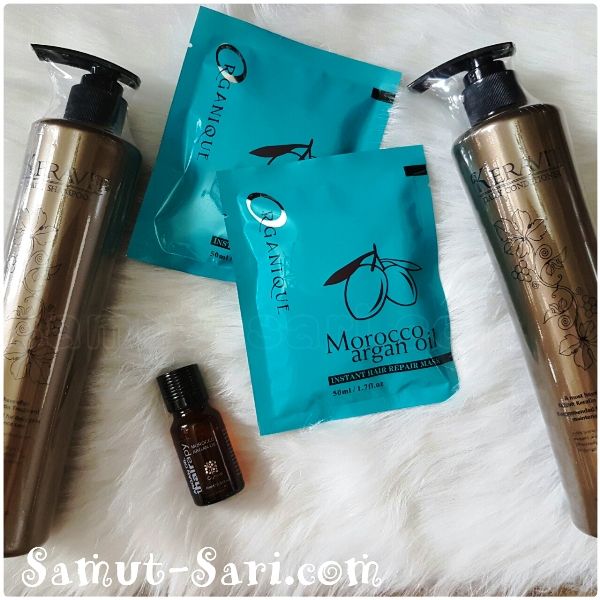 I also tried their Diamond Peel service but that's for another review post soon! Here's a sneak peak below just to entice you and invite you to try it too when you're in Taguig.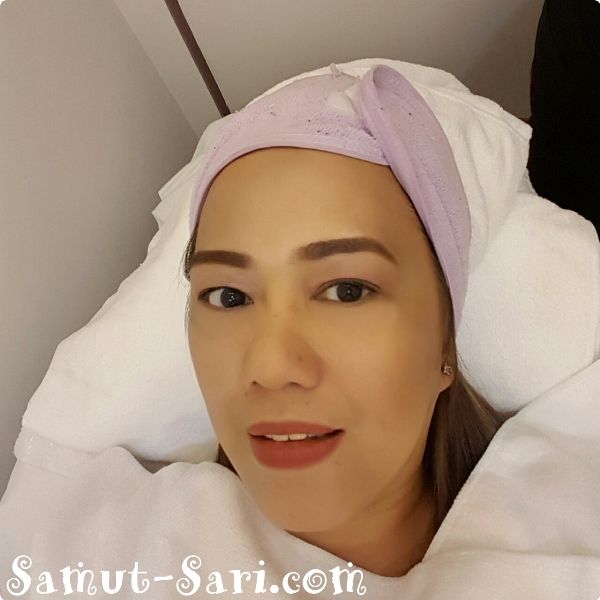 By the way, they have a lot of ongoing promos and you better grab the awesome deals because they're super lower than others. Here's an example below.
Thank you so much, Ms. Bianca and her awesome staff for accommodating me! Loved your new salon and more blessings for you all!
Check out their details and webpages for more updates and promotions:
The Beauty Lounge by Bianca Festejo (previously Mary Pauline)
Branches:
Las Piñas Branch: Second Floor, Star Mall Las Piñas (in front of cinema, named Mary Pauline Salon)
Taguig Branch: Second Floor, Petron Station C5 – Diego Silang, Taguig (The Beauty Lounge by Bianca Festejo)
Website: http://www.thebeautyloungebybianca.com/
Facebook: https://www.facebook.com/MaryPaulineStarMallLasPinas/
Instagram: https://www.instagram.com/thebeautyloungebybianca/
Hits: 1051