Well, are you thinking of doing some mix and match with your current furniture or maybe wanna purchase some to add to your collections? It's that time of the year where some people are on a shopping spree for new house decors or even paint the walls and ceilings anew. They think that re-arranging things around the house would mean "new beginnings" or maybe money would easily knock on their doors.
As for me, I am thinking of placing a few new furniture especially a round end table near my desktop computer. I need a place to put some of my "work things" and having one would free up the top of the CPU or the printer of important papers and utility bills. I already have a stack filer so at least, it would be kinda organized.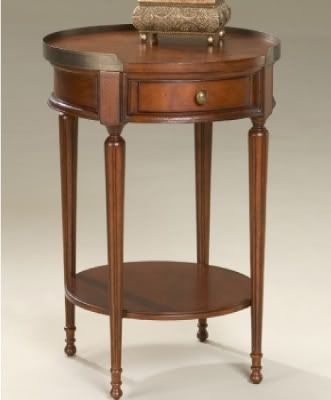 Photo: OnlyTables.com
I could go for wooden or glass coffee tables and end tables and I know they'd be a match to my current furniture. If you are an old reader of my blogs, perhaps you've seen me post about furniture around the house and you'd know that I fancy mostly wooden ones. The whole house has an air of being "old" and "antique", so best if the new ones are wooden.
Though in some areas of the house, some furniture are made of glass like our round dining table for guests. The usual dining table we use is the long rectangular one simply because we like dining on an old table and sitting on old chairs. First time visitors sometimes say that our house is kinda creepy,lol. Situated in the main living room are antique side tables, chairs and couches. There are old paintings hung on one side and there's a large mirror on one end. Crossing the dining area would also give you the chill, ahahaha, coz there's yet another large mirror like those used in dancing studios, so, you can actually see your whole body. Apart from that, there's an old, I think, a hundred year old cabinet which we turned into a book case.
Let's not go into more details about the house, coz, I can now feel my hair all shooting up, lol.
Anyway, i hope I'll get more moolah before the year ends so I can buy me some new decors. I'd really like to replace the old ones and turn this house into one lively home 🙂
Hits: 1401