Makeup with 24K gold particles? That surely is intriguing! Yep, if you have the budget, want luxurious beauty products that can give you that radiance inside and out, then UNO Premier's Le Jeune Cosmetiques will be a glamourous collection!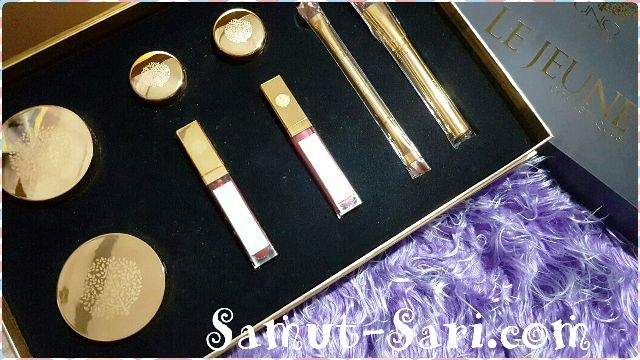 The whole #UNOPremier Le Jeune Cosmetiques package includes the following:
(All contains 24K gold microparticles)
2 Mineral BB Foundations in Fair Beige and Natural Tan
1 Mineral Lip Lacquer
1 Mineral Lip & Cheek Tint
2 Mineral Eye Shadows
I'm already using the #UNOPremier Le Jeune Cosmetiques Fair Beige Mineral BB Foundation for 2 weeks now. I find it more suitable for my skin than my previous water cushions, liquid foundations and CC Creams in terms of skin care. This Mineral BB Foundation isn't just your regular mineral makeup because it gives you several skin care benefits.
Here's a sneak peak of the inside of the mineral foundie.
Will give you an in-depth review of the Fair Beige Mineral BB Foundation in my next post so I can enumerate the pros and cons.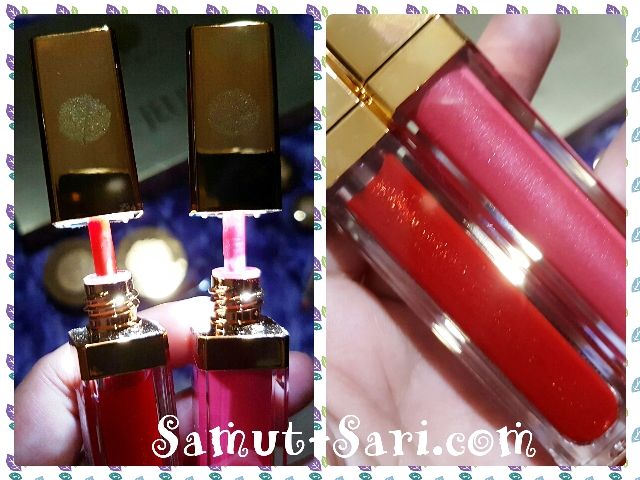 Well what do you know, these beauties have tiny lites to illuminate while you put on lippies! I find it cool hahaha.. It also contains 24K gold microparticles, it won't look like you have glitters on yet glossy and dazzling. Thick consistency, pretty pigmented, mild scent, will last you hours though you have to re-apply after eating. The red tube is a lacquer lippie while the pink one is a lip & cheek tint.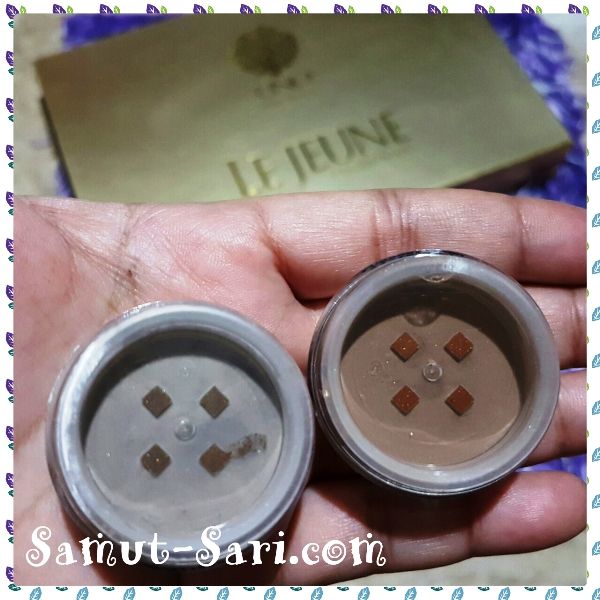 I haven't really tried these 24K Multipurpose Mineral Eye Shadow, but I bet they'd be giving me the same age-defying benefits. Comes in Chocolate and Mahogany.
The first thing I did when I got these foundie and eye shadow brushes was to feel the brush hair. Gosh, soft like a baby's hair, even softer I guess! Both are specifically created to be used with the mineral makeups. It will make application a lot easier, no mess or minimized spills, blends well and you can just rinse it with lukewarm water to cleanse.
Here are the benefits of using #UNOPremier Le Jeune Cosmetiques Mineral Makeups
Anti-Aging
I'm almost in my 50s so using makeups and skin care that can at least delay aging is a must in my kikay kit and vanity dresser.
These #UNOPremier Le Jeune Cosmetiques mineral makeup boast of gold facial properties which act as its anti-aging ingredient. Pretty cool, right? It fights off damaging free radicals and helps in developing new cells.
Cleanses and Detoxifies
Gold specifically 24K can aid in toxin removal as it assists lymphatic drainage, improves blood circulation and aids in faster cell renewal. It also gives one protection from harmful elements.
Repair
Sun damaged skin? Want to reduce age spots or prevent melasma? This #UNOPremier Le Jeune Cosmetiques can help protect and repair your skin with continued use!
I'll definitely finish up these set of gold mineral makeup and will review the others as well. I've heard a lot of good things about using mineral makeup on the face, besides I'm seeing and feeling great improvement on my face! Will add links for updates.
Anyway, retail price of #UNOPremier Le Jeune Cosmetiques – Php11,998.00. There's real 24K gold microparticles in it, remember? You can't purchase this box in any beauty shops or department stores. You can only get it via any UNO Premier distributor or their offices.
If you are interested to know more about this product or UNO Premier, please check out their web pages below and follow them:
Website: http://www.unopremier.com/
Facebook: https://www.facebook.com/UNOPremierOfficialSite/
Instagram: https://www.instagram.com/unopremierofficial/
Twitter: https://twitter.com/UNOPremier_PH
–
Hits: 593