My husband and I love watches… all sorts of them, be it faux or signature. Though we're really not keen on buying uber expensive timepieces, we do have a few coz we think they're an investment.
Hubby doesn't share the same enthusiasm when it comes to fashionable watches, but when I was chosen to review several items from www.Tmart.com, suddenly he got interested.
Why the interest? I was browsing Tmart's Online Store, he was peeking over my shoulder and saw several products which caught his undivided attention. Since I need to pick products for review, I let him choose what he wanted. It's unusual to see him browsing online shops, but I'm pretty sure he had fun that time.
What did he get for himself? Look at this awesome "Sport Men Big Head Dual Movements Waterproof Digital Quartz Wrist Watch White"! SALE PRICE: $11.57 – REGULAR PRICE: $31.99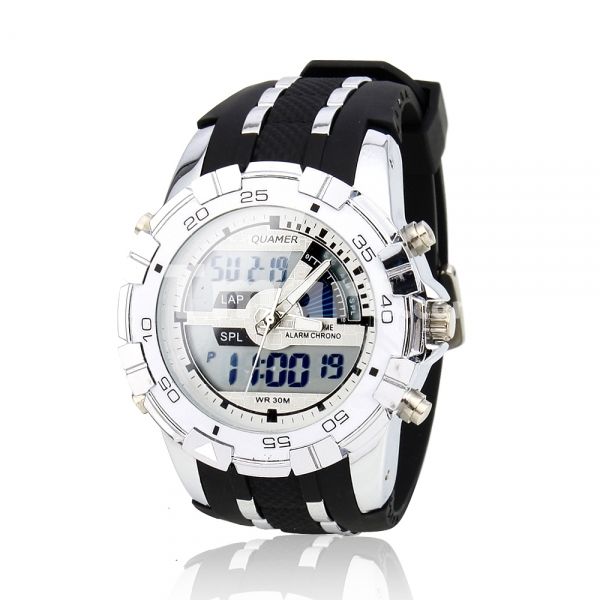 Truly eye-catching, eh? I bet other men would be willing to wear this watch as it's a beauty!
Product Details:
Surface is simple and generous to offer you a fashionable appearance
Made of PV material, the watchband is excellent, durable and comfortable to wear
The watchband is adjustable to meet your needs
High crafted finishing and polishing, which show your charm incisively and vividly
Adopt precise and stable quartz movement
Adopt dual movements, very useful and convenient
With LED display for dark use
It is third-degree water resistant in daily life
My Husband's Verdict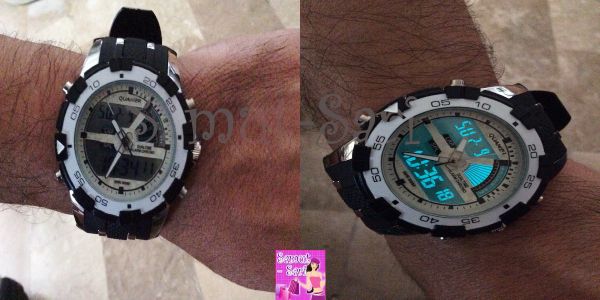 He likes it that much so he wears it to work regardless of the price
Thinks the price is practical
The size is perfect even on his medium sized wrist
The design, style and make – not only as a sports watch but also looks great for everyday use.
Perfect for casual outfits
The backlight LED display adds pizzazz to the design
Can be worn by men of all ages
Heavy yet manageable
The watch got splashed on by water while he was washing his hands and indeed water-resistant.
He works in a hotel and wears a suit, yet it looks stunning and fits his work attire. Some of his male friends said it's a cool sports watch and doesn't even look cheap.
If you are on a budget and want to gift your husband this kind of watch or yourself, check out Tmart's wide array of products and I'm sure you'll be surprised at the low low prices yet high quality items.
Disclaimer: I received one or more of the products mentioned above for free. Some of the links in the post above are "affiliate links." This means if you click on the link and purchase the item, I will receive an affiliate commission. Regardless, I only recommend products or services I use personally or my family and friends and believe will be good for my readers.
Remember: Before buying any brands or products for the first time, do extensive research about it.
This disclosure is done in accordance with the Federal Trade Commission 16 CFR, Part 255 Guides Concerning the Use of Endorsements and Testimonials in Advertising. For detailed Disclosure, kindly read it HERE.
Hits: 322